01.12.2011 | Review | Ausgabe 1/2011 Open Access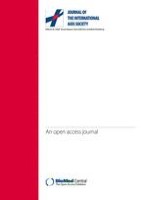 HIV and incarceration: prisons and detention
Zeitschrift:
Autoren:

Ralf Jürgens, Manfred Nowak, Marcus Day
Wichtige Hinweise
Competing interests
The authors declare that they have no competing interests.
Authors' contributions
RJ took primary responsibility for the writing of all sections of the paper with the exception of the first section (Forgotten prisoners: global crisis of conditions in detention), which was written by MN. MD was involved in all discussions of the article and provided extensive comments that were integrated in the final version of the article. All authors read and approved the final manuscript.
Abstract
The high prevalence of HIV infection among prisoners and pre-trial detainees, combined with overcrowding and sub-standard living conditions sometimes amounting to inhuman or degrading treatment in violation of international law, make prisons and other detention centres a high risk environment for the transmission of HIV. Ultimately, this contributes to HIV epidemics in the communities to which prisoners return upon their release.
We reviewed the evidence regarding HIV prevalence, risk behaviours and transmission in prisons. We also reviewed evidence of the effectiveness of interventions and approaches to reduce the risk behaviours and, consequently, HIV transmission in prisons.
A large number of studies report high levels of risk behaviour in prisons, and HIV transmission has been documented. There is a large body of evidence from countries around the world of what prison systems can do to prevent HIV transmission. In particular, condom distribution programmes, accompanied by measures to prevent the occurrence of rape and other forms of non-consensual sex, needle and syringe programmes and opioid substitution therapies, have proven effective at reducing HIV risk behaviours in a wide range of prison environments without resulting in negative consequences for the health of prison staff or prisoners.
The introduction of these programmes in prisons is therefore warranted as part of comprehensive programmes to address HIV in prisons, including HIV education, voluntary HIV testing and counselling, and provision of antiretroviral treatment for HIV-positive prisoners. In addition, however, action to reduce overcrowding and improve conditions in detention is urgently needed.