01.12.2015 | Research article | Ausgabe 1/2015 Open Access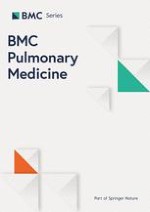 HIV associated Lymphocytic Interstitial Pneumonia: a clinical, histological and radiographic study from an HIV endemic resource-poor setting
Zeitschrift:
Autoren:

Richard N van Zyl-Smit, Jashira Naidoo, Helen Wainwright, Quanita Said-Hartley, Malika Davids, Hillel Goodman, Sean Rogers, Keertan Dheda
Wichtige Hinweise
Richard N van Zyl-Smit and Jashira Naidoo contributed equally to this work.
Competing interests
The authors declare that they have no competing interests.
Authors' contributions
Design of study: KD, SR, JN, RV. Collection of Data SR, JN, RV. Radiology review HG, QS. Histology HW. Data analysis JN, RV, MD. Manuscript preparation and review RV, JN, KD, HW, MD, HG, SR, QS. All authors read and approved the final manuscript.
Abstract
Background
There is a paucity of clinical and histopathological data about HIV-associated lymphocytic interstitial pneumonitis (LIP) in adults from HIV endemic settings. The role of Ebstein-Barr virus (EBV) in the pathogenesis remains unclear.
Methods
We reviewed the clinical, radiographic and histopathological features of suspected adult LIP cases at the Groote Schuur Hospital, Cape Town South Africa, over a 6 year period. Archived tissue sections were stained for CD3, CD4, CD8, CD20 and LMP-1 antigen (an EBV marker).
Results
42 cases of suspected LIP(100% HIV-infected) were identified. 75% of patients were empirically treated for TB prior to being referred to the chest service for further investigation. Tissue samples were obtained using trans-bronchial biopsy. 13/42 were classified as definite LIP (lymphocytic infiltrate with no alternative diagnosis), 19/42 probable LIP (lymphocytic infiltrate but evidence of anthracosis or fibrosis) and 10 as non-LIP (alternative histological diagnosis). Those with definite LIP were predominantly young females (85%) with a median CD4 count of 194 (IQR 119–359). Clinical or radiological features had poor predictive value for LIP. Histologically, the lymphocytic infiltrate comprised mainly B cells and CD8 T cells. The frequency of positive EBV LMP-1 antigen staining was similar in definite and non- LIP patients [(2/13 (15%) vs. 3/10 (30%); p = 0.52].
Conclusions
In a HIV endemic setting adult HIV-associated LIP occurs predominantly in young women. The diagnosis can often be made on transbronchial biopsy and is characterized by a predominant CD8 T cell infiltrate. No association with EBV antigen was found.