25.06.2020 | HIV | FORTBILDUNG -- ÜBERSICHT | Sonderheft 2/2020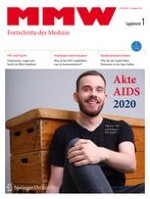 Krebsscreening bei HIV-Patienten
Malignome des Gastrointestinaltrakts
Zeitschrift:
Autoren:

Dr. med. Michael Nürnberg, PD Dr. med. Keikawus Arastéh, Dr. med. Hartmut Stocker
Wichtige Hinweise
This article is part of a supplement not sponsored by the industry.
HIV-Patienten haben ein erhöhtes Krebsrisiko. Das gilt nicht nur für die sogenannten AIDS-definierenden Malignome Kaposi-Sarkom, Zervixkarzinom und Non-Hodgkin-Lymphom. Gehäuft treten v. a. Karzinome des Gastrointestinaltrakts auf, die mit viralen Ko-Infektionen vergesellschaftet sind. Ärzte sollten ihre Patienten gewissenhaft screenen.