01.09.2009 | Focussed Research Review | Ausgabe 9/2009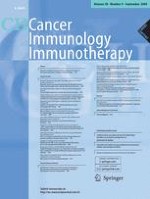 HLA and melanoma: multiple alterations in HLA class I and II expression in human melanoma cell lines from ESTDAB cell bank
Zeitschrift:
Autoren:

Rosa Mendez, Natalia Aptsiauri, Ana Del Campo, Isabel Maleno, Teresa Cabrera, Francisco Ruiz-Cabello, Federico Garrido, Angel Garcia-Lora
Wichtige Hinweise
This paper is a Focussed Research Review from the meeting which took place 28–29 May 2008 in Nottingham, UK, celebrating the contribution of Prof. I. A."Tony" Dodi (29.1.2008) to the EU project "Network for the identification and validation of antigens and biomarkers in cancer and their application in the clinical tumour immunology (ENACT)".
Abstract
Altered HLA class I and class II cell surface expression has been reported in many types of malignancy and represents one of the major mechanism by which tumour cells escape from T lymphocytes. In this report, we review the results obtained from the study of constitutive and IFN-gamma-induced expression of HLA class I and II molecules in 91 human melanoma cell lines from the European Searchable Tumour Cell Line Database, and compare them with published data on HLA expression in other types of cancer. Various types of alterations in HLA class I cell surface expression were found in a high percentage (67%) of the studied cell lines. These alterations range from total to selective HLA class I loss and are associated with β2-microglobulin gene mutations, transcriptional downregulation of HLA class I genes and antigen processing machinery components, or with the loss of heterozygosity in chromosome 6. The most frequently observed phenotype is selective downregulation of HLA-B locus, reversible after treatment with IFN-gamma. The expression of constitutive- or IFN-gamma induced-surface expression of at least one HLA class II locus is positive in 71.5% of the analysed cell lines. Four different HLA class II expression phenotypes were defined, and a positive correlation between the expression of class I and II molecules is discussed. More detailed information on the HLA expression patterns and others immunological characteristics of these melanoma cell lines can be found on the following website
http://​www.​ebi.​ac.​uk/​ipd/​estdab
.