05.06.2019 | Original Article - CSF Circulation | Ausgabe 8/2019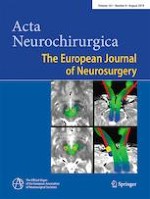 Home telemonitoring of intracranial pressure
Zeitschrift:
Autoren:

Christoph A. Tschan, Victor F. Velazquez Sanchez, Michael Heckelmann, Sebastian Antes
Wichtige Hinweise
This article is part of the Topical Collection on
CSF Circulation
The content of the paper has not been presented in oral or poster form at a conference.
Comments
The study by Tschan et al. describes a new method for long-term telemetric ICP monitoring through videolink consultations with online analysis of ICP data acquired in the patient's home ("home telemonitoring"). This way of managing patients with (suspected) hydrocephalus is interesting, at least when patients live far away from the neurosurgical unit. However, actual "telemedicine" requires treatment actions to be taken from the distance, which is not the case at the moment, meaning that patients need to visit the neurosurgical unit if ICP is abnormal, e.g., for changes in shunt valve setting. Another issue at the moment is the high cost of the available telemetric reading device, making it unlikely that each patient can be supplied with one.
This method of management have a narrow use at the moment, but if adjustable shunt valves can be adjusted online in the future and telemetric reading devices can be supplied with each sensor, the idea of home telemonitoring of ICP might gain more attention.
Alexander Lilja-Cyron
Copenhagen, Denmark
Publisher's note
Springer Nature remains neutral with regard to jurisdictional claims in published maps and institutional affiliations.
Abstract
Background
As technical progress advances, telemonitoring has become an important part of patient care in many areas of medical treatment. However, distanced surveillance of intracranial pressure (ICP) could not be established so far. With the recent introduction of a telemetric ICP measurement probe, new possibilities arise. Here, we report on a new home setup enabling home telemonitoring of intracranial pressure.
Methods
Twenty patients suffering from disturbances of cerebrospinal fluid circulation, who underwent insertion of a telemetric ICP measurement probe, were provided with medical equipment to read ICP at home and save the data on an internet-enabled computer. Training in handling the equipment was performed during in-patient stay; recorded and uploaded ICP data was then analyzed online. Therefore, the treating medical team was able to access the ICP data via a secure internet connection while telephone conferencing with the patient.
Results
Almost 7400 h of ICP data were recorded at home and evaluated via an internet connection according to the telemonitoring setup. This corresponds to an average record time of about 370 h per patient. ICP profiles were observed following endoscopic treatment, shunting procedures, or valve adjustments. The mean distance between the patients' residence and the consulting hospital was 172 km (range, 16–649 km).
Conclusions
ICP measurements have become accessible for telemonitoring purposes. This new management of hydrocephalus reflects an alternative method in patient care, especially for those who live far away from specialized centers.