01.12.2017 | Research | Ausgabe 1/2017 Open Access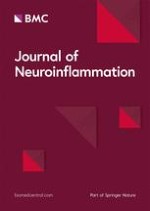 Homocysteine exaggerates microglia activation and neuroinflammation through microglia localized STAT3 overactivation following ischemic stroke
Zeitschrift:
Autoren:

Shuang Chen, Zhiping Dong, Man Cheng, Yaqian Zhao, Mengying Wang, Na Sai, Xuan Wang, Huan Liu, Guowei Huang, Xumei Zhang
Wichtige Hinweise
Electronic supplementary material
Abstract
Background
Elevated plasma homocysteine (Hcy) levels have been indicated as a strong and modifiable risk factor of ischemic stroke; the previous studies have shown that exposure to Hcy activates cultured microglia. However, whether neurotoxicity of Hcy involves microglia activation following brain ischemia and the underlying mechanisms remains incompletely understood.
Methods
The cerebral damage was evaluated by staining with 2,3,5-triphenyltetrazolium chloride, hematoxylin-eosin, and Fluoro Jade B. The activation state of microglia was assessed via immunoreaction using the microglial markers Iba1 and OX-42. Then, the inflammatory factors such as tumor necrosis factor α (TNF-α), interleukin 6 (IL-6), and phosphorylated signal transducer and activator of transcription 3 (pSTAT3) were examined by Western blot analysis and fluorescence immunohistochemistry.
Results
Elevated Hcy level augmented brain damage and neural cell toxicity in the brain cortex and the dentate gyrus region of the hippocampus after cerebral ischemia/reperfusion. Meanwhile, Hcy activated microglia and induced the expression of the inflammatory factors such as TNF-α and IL-6. Moreover, Hcy caused an increase in pSTAT3 expression which occurs in microglial cells. AG490, a JAK2-STAT3 inhibitor, effectively inhibited the phosphorylation of STAT3, microglial cell activation and the secretion of IL-6, TNF-
α
raised by Hcy treatment.
Conclusions
STAT3 signaling pathway located in microglia plays a critical role in mediating Hcy-induced activation of microglia and neuroinflammation in rat MCAO model. This suggests the feasibility of targeting the JAK2/STAT3 pathway as an effective therapeutic strategy to alleviate the progression of Hcy-associated ischemia stroke.