06.03.2020 | Ausgabe 2/2020 Open Access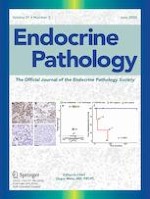 Homogeneous MMR Deficiency Throughout the Entire Tumor Mass Occurs in a Subset of Colorectal Neuroendocrine Carcinomas
Zeitschrift:
Autoren:

Christoph Fraune, Ronald Simon, Claudia Hube-Magg, Georgia Makrypidi-Fraune, Martina Kluth, Franziska Büscheck, Tania Amin, Fabrice Viol, Wilfrid Fehrle, David Dum, Doris Höflmayer, Eike Burandt, Till Sebastian Clauditz, Daniel Perez, Jakob Izbicki, Waldemar Wilczak, Guido Sauter, Stefan Steurer, Jörg Schrader
Wichtige Hinweise
Publisher's Note
Springer Nature remains neutral with regard to jurisdictional claims in published maps and institutional affiliations.
Abstract
Neuroendocrine neoplasms comprise a heterogeneous group of tumors, categorized into neuroendocrine tumors (NETs) and neuroendocrine carcinomas (NECs) depending on tumor differentiation. NECs and high-grade NETs (G3) confer a poor prognosis, demanding novel treatment strategies such as immune checkpoint inhibition in tumors with microsatellite instability (MSI). To study any possible intratumoral heterogeneity of MSI, a tissue microarray (TMA) containing 199 NETs and 40 NECs was constructed to screen for MSI using immunohistochemistry (IHC) for the mismatch repair (MMR) proteins MLH1, PMS2, MSH2, and MSH6. Four cases suspicious for MSI were identified. Validation of MSI by repeated IHC on large sections and polymerase chain reaction (PCR)–based analysis using the "Bethesda Panel" confirmed MSI in 3 cecal NECs. One pancreatic NET G3 with MSI-compatible TMA results was MMR intact on large section IHC and microsatellite stable (MSS). The remaining 235 tumors exhibited intact MMR. Protein loss of MLH1/PMS2 was found in two and MSH6 loss in one cancer with MSI. Large section IHC on all available tumor-containing tissue blocks in NECs with MSI did not identify aberrant tumor areas with intact MMR. Our data indicate that MSI is common in colorectal NECs (3 out of 10) but highly infrequent in neuroendocrine neoplasms from many other sites. The lack of intratumoral heterogeneity of MMR deficiency suggests early development of MSI during tumorigenesis in a subset of colorectal NECs and indicates that microsatellite status obtained from small biopsies may be representative for the entire cancer mass.