30.04.2016 | Übersicht | Ausgabe 3/2016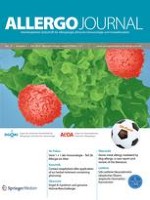 Horse-meat allergy mediated by dog-allergy: a case report and review of the literature
Zeitschrift:
Autoren:

MD, PhD Martine Morisset, Karthik Arumugam, Markus Ollert, Christiane Hilger
Wichtige Hinweise
Conflict of interest
The authors declare no conflict of interest.
Acknowledgment
The present work has been funded by the Ministry of Higher Education and Research in Luxembourg.
Cite this as
Morisset M, Arumugam K, Ollert M, Hilger C. Horse-meat allergy mediated by dog-allergy: a case report and review of the literature. Allergo J Int 2016; 25:76–81
DOI:
10.1007/s40629-016-0103-7
Abstract
The pork-cat syndrome is an IgE-mediated allergy to pork triggered by a primary sensitization to cat dander. IgE-antibodies are directed to cat serum albumin, Fel d 2, and cross-react with porcine serum albumin. In contrast to meat anaphylaxis caused by IgE to α-Gal, in patients with pork-cat syndrome, symptoms occur in less than two hours after consumption. As albumin is a thermolabile allergen, patients often tolerate well done meat. In this review, different allergens of red meat are described and an original case of allergy to horse meat mediated by allergy to dog dander is presented.