09.11.2019 | Ausgabe 2/2020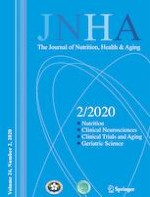 HoSAGE: Sarcopenia in Older Patients before and after Treatment with Androgen Deprivation Therapy and Radiotherapy for Prostate Cancer
Zeitschrift:
Autoren:

Anne-Laure Couderc, X. Muracciole, E. Nouguerede, D. Rey, S. Schneider, P. Champsaur, E. Lechevallier, L. Lalys, P. Villani
Abstract
Background
Sarcopenia is a muscle disease defined by a loss of muscle strength associated to a decrease in skeletal muscle mass. In addition to aging, many factors may contribute to sarcopenia as cancer and/or androgen deprivation therapy (ADT).
Objectives
The aims of this study are to describe the prevalence of sarcopenia in older prostate cancer patients before initiation of treatment with ADT and radiotherapy, and to evaluate the impact of ADT on the occurrence or aggravation of sarcopenia in this population.
Design
Longitudinal study.
Participants and setting
Sarcopenia was prospectively evaluated in 31 consecutive patients aged 70 to 88 years, referred in one hospital unit of south eastern France, for a comprehensive geriatric assessment (CGA) before cancer treatment initiation.
Measurements and results
CGA, measures of muscle strength and physical performances were performed at baseline (T0) and at the end of cancer treatment (T1). Appendicular skeletal muscle mass was measured by Dual-energy X-ray absorptiometry (DXA) at the end of treatment. At T0, 8 patients (among 31) had a probable sarcopenia according to European consensus, and 18 had altered physical performance. At T1, 15 patients (among 19) had abnormal one leg balance test. Finally, only one patient had a sarcopenia confirmed by DXA.
Conclusion
This preliminary study showed a high prevalence of muscle disorders before initiation of ADT in a population of elderly cancer prostate patients with intermediate frailty status, and an increased risk of falls at the end of ADT. This highlighted the importance of screening for sarcopenia before treatment initiation, to prevent the occurrence or aggravation of sarcopenia by possible adjustment of treatment, and implementation of appropriate exercise and nutrition interventions.