07.01.2021 | Original Article | Ausgabe 6/2021 Open Access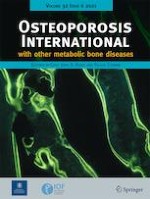 Hospital admissions of patients with osteogenesis imperfecta in the English NHS
Zeitschrift:
Autoren:

S. Kolovos, M. K. Javaid, R. Pinedo-Villanueva
Wichtige Hinweise
Publisher's note
Springer Nature remains neutral with regard to jurisdictional claims in published maps and institutional affiliations.
Introduction
Osteogenesis imperfecta (OI) is a spectrum of rare genetic disorders characterised by low bone mass, reduced bone material strength, and specific clinical features and inheritance patterns [
1
,
2
]. Patients with OI are susceptible to skeletal deformity and fragility throughout their lives. However, they are a heterogeneous group and the severity of their clinical symptoms varies from mild to severe. Their quality of life is lower than that of the general population. Children report being most affected in their physical functioning and school functioning [
3
,
4
], while adults report being most affected in their physical functioning [
5
,
6
], pain/discomfort, and mobility [
7
].
The management of OI requires a multidisciplinary team of specialists including surgeons, rheumatologists, endocrinologists, paediatricians, and allied health professionals [
8
]. Its treatment is not without complications, and the disease burden for patients and the healthcare system is considerable. Before healthcare services for people with OI can be redesigned to be more effective, efficient, and patient-friendly, the volume and pattern of current activity must be understood. However, information on hospital use by patients with OI is very limited. We therefore aimed to characterise current hospital use by patients with OI in the English National Health Service (NHS).
Methods
Study design and setting
We analysed routinely collected aggregate data from patients with OI from all 451 hospital trusts in the NHS in England [
9
] from 1 April 2014 to 31 March 2018. We sourced data from the Vantage platform, which was provided by Health iQ in an aggregated format rather than patient-level data.
Secondary care data were taken from the English Hospital Episode Statistics (HES) database produced by the Health and Social Care Information Centre [
10
]. NHS hospital care in England, including community care and mental health services, is managed by hospital trusts. The data extracted reflected inpatient hospital records reported by HES Admitted Patient Care (HES APC). HES APC contains data on all hospital admissions to the NHS and independent sector providers funded by the NHS [
9
]. Hospital admissions are classified as elective or non-elective. Elective admissions are defined as those occurring when the decision to admit and the actual admission happen at different times, such as admissions originating from a waiting list. Non-elective admissions are defined as those that have not been arranged in advance, such as emergency admissions [
11
].
A hospital admission in HES APC is referred to as a "spell" and is defined as an uninterrupted inpatient stay at a particular hospital. Several finished consultant episodes may be included in one spell, when a patient is seen by various consultants during one stay. However, a spell does not include transfers between different hospitals, and a new spell begins if a patient is transferred to another hospital [
9
].
The acquired data files were organised by financial year (starting on 1 April) and were updated monthly. We analysed data from 1 April 2014 to 31 March 2018, corresponding to 4 full financial years.
Study population
Aggregate data about admissions reporting International Classification of Diseases-10 (ICD-10) diagnostic code Q78.00 (osteogenesis imperfecta) were retrieved as hospital admissions of patients with OI. Up to 20 ICD-10 codes can be recorded for each admission record, with the first code referred to as the primary diagnosis and the rest as secondary diagnoses. If an OI code was reported as the primary diagnosis, then OI was the main reason for the admission, for instance to provide treatment for the condition. If an OI code was reported as a secondary diagnosis, then the reason for admission was not OI, but the fact that the patient has OI was flagged. We extracted data for both primary and secondary OI diagnoses. Admission records were only accessible in aggregate form, categorised by variables such as financial year, sex, and age group. We did not have access to individual patient follow-up or characterisation beyond these extracted tables. Following NHS Digital guidelines to ensure confidentiality, we used small number suppression, rounding of patient counts, and rounding of admission counts on all outputs.
Variables
We extracted number of admissions, number of patients, length of stay (total bed days), waiting time (days from referral date to treatment start date), and costs from the data files provided by the Vantage platform. We report the collected aggregate data categorised by sex, age group, admission method (elective and non-elective), patient classification (day-case, ordinary, and regular), and procedure codes (four-character OPCS codes, a classification of interventions and procedures used by healthcare providers in England).
Day-case was defined as an inpatient elective admission for treatment during the course of the day without staying overnight. Ordinary was defined as an inpatient elective or non-elective admission for treatment and staying for at least one night. Regular was defined as an inpatient elective admission that was part of a planned series of admissions for an ongoing regime of broadly similar treatments, with the patient discharged on the same day [
12
].
Costs
We extracted costs directly from the platform as calculated by the data provider. We treated these costs as estimates because they were calculated per spell but retrieved in aggregate form. Reported cost estimates were based on the NHS national tariff according to core Healthcare Resource Group (HRG) codes assigned to each spell. We also included additional costs related to excess bed days for spells with lengths of stay beyond the trim point of the respective HRG code. However, unbundled HRG codes (specific elements of activity and costs separated from core HRGs, such as diagnostic imaging) were not available [
13
]. The reported figures are therefore a conservative estimate of the cost to the NHS, as the NHS reimburses hospitals for the care provided to patients admitted.
Data analysis
Descriptive statistics and figures were used to summarise hospital use by patients with OI. We examined the association between sex and number of admissions, number of patients, and costs for either primary or secondary OI diagnosis, only primary OI diagnosis, or only secondary OI diagnosis. We used regression analysis to investigate whether the number of admissions and patients increased over the 4 years of analysis. We use figures to demonstrate how the number of admissions per year, costs per year, average length of stay per admission, and average cost per admission differed by age group. We also report the number of admissions, average cost, and average waiting time by admission method.
To identify the main drivers of admissions and costs for people with OI, admissions were categorised according to the 25 clinically relevant procedure and intervention OPCS chapters used by the NHS (e.g., "Nervous System", "Diagnostic Imaging, Testing and Rehabilitation", and "Bones and Joints of Skull and Spine") [
14
]. Admissions were categorised separately for patients with OI as primary or secondary diagnosis.
Results
Discussion
The aim of this study was to characterise hospital use by patients with OI in the English NHS. We found that the NHS provided an average 4061 hospital admissions to patients with OI each year, with an average annual cost of £6,013,113 over the 4-year study period. Although there were more female than male patients, male patients were admitted more often each year. Children younger than 14 years accounted for the highest proportion of all admissions and costs, while adults over 80 years had longer average lengths of stay and higher costs per admission than other age groups. Non-elective admissions were on average twice as expensive as elective admissions. Admissions and costs were mainly driven by procedures related to administration of therapeutic substance for patients with primary OI diagnoses and by diagnostic radiology for patients with secondary OI diagnoses. Total numbers of patients and admissions increased each year between April 2014 and March 2018.
Diagnostic radiology procedures drove the number and costs of admissions with OI as a secondary diagnosis. The classification of procedures by OPCS chapters was not very informative, with most admissions classified under chapters that hamper understanding of the treatment provided. Future studies with access to patient-level data should further explore the procedures that take place in each admission, which we could not do with aggregated data.
Conclusion
The results from this paper highlight the considerable volume of NHS resources currently used to manage patients with OI. This burden could be reduced by reducing non-elective admissions and providing treatment to patients with OI in non-hospital settings. Further research based on patient-level data is needed to better understand the natural history of the disease and its economic burden on the healthcare system so that better decisions can be made to support patients living with OI.
Acknowledgements
We acknowledge English language editing by Dr Jennifer A de Beyer of the Centre for Statistics in Medicine, University of Oxford.
Compliance with ethical standards
Conflicts of interest
RPV has received research funding from Kyowa Kirin Services and lecture fees and/or consulting honoraria from Amgen, UCB, Kyowa Kirin Services, and Mereo Biopharma. MKJ has received consultancy fees from Mereo Biopharma. SK declares no conflict of interest.
Code availability
Descriptive statistics were calculated using Excel.
Open Access
This article is licensed under a Creative Commons Attribution-NonCommercial 4.0 International License, which permits any non-commercial use, sharing, adaptation, distribution and reproduction in any medium or format, as long as you give appropriate credit to the original author(s) and the source, provide a link to the Creative Commons licence, and indicate if changes were made. The images or other third party material in this article are included in the article's Creative Commons licence, unless indicated otherwise in a credit line to the material. If material is not included in the article's Creative Commons licence and your intended use is not permitted by statutory regulation or exceeds the permitted use, you will need to obtain permission directly from the copyright holder. To view a copy of this licence, visit
http://​creativecommons.​org/​licenses/​by-nc/​4.​0/​
.
Publisher's note
Springer Nature remains neutral with regard to jurisdictional claims in published maps and institutional affiliations.