01.12.2018 | Systematic review | Ausgabe 1/2018 Open Access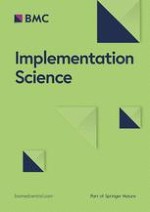 Hospital-based interventions: a systematic review of staff-reported barriers and facilitators to implementation processes
Zeitschrift:
Autoren:

Liesbeth Geerligs, Nicole M. Rankin, Heather L. Shepherd, Phyllis Butow
Wichtige Hinweise
Electronic supplementary material
Introduction
The current systematic review therefore had two key aims: first, to identify staff-reported barriers and facilitators to implementation of patient-focused interventions within the hospital context, and second, to define and explore relationships between these, in order to generate practical strategies that can assist tailoring to individual service needs. We also sought to explore the fit between existing frameworks and components of real-world implementation studies, to contribute to the growing evidence base for these frameworks and to identify those likely to be of most use to clinicians, researchers, and administrators in designing and conducting implementation studies.
Methods
Registration
This systematic review is registered on PROSPERO (17.02.17, registration:2017057554) [
17
].
Search strategy
A search of the relevant databases (Psych Info, MEDLINE, PubMed, Embase, CINAHL, and Web of Science) was conducted, with results limited to articles published up until 31 December 2016. A comprehensive list of search terms (see Additional file
1
) was developed based on the terminology of the field and keyword lists of relevant papers (see summary in Table
1
). Keywords that mapped to specific Medical Subject Headings for each database were selected to ensure an inclusive search approach. Returned search results were screened for duplicates. Ethical approval was not required for this review.
Table 1
Summary of database search terms
| | |
| --- | --- |
| Process | [implementation$ or dissemination$ or roll-out or knowledge translation or knowledge transfer] AND |
| Type of change | [intervention$ or treatment plan$ or care plan or pathway$] AND |
| Population/setting | [health care or health care service$ or health care utilization or health care delivery or hospital services or health services research or clinical service$ or hospital program$ or tertiary service or hospital] AND |
| Mechanisms | [facilitat$ or barrier$ or challenges or barrier analysis or process analysis or enabl$ or change agent] AND |
| Intervention type | [psychological or psychosocial or psychology] |
Eligibility criteria
A checklist of inclusion and exclusion criteria was developed to guide selection of appropriate studies (Table
2
). During this process, all authors reviewed a sub-sample of articles (10%) to refine inclusion and exclusion criteria and ensure criteria could be consistently applied.
Table 2
Inclusion and exclusion criteria
 1. Types of studies

Quantitative or qualitative original studies published in full including:

 - Interviews/focus groups

 - Surveys/questionnaires

Exclusions: Review papers, editorials, commentary/discussion papers, papers published in languages other than English, conference posters or oral presentations not available in full text, book chapters.

 2. Study settings

Hospital settings including:

 - Inpatient

 - Outpatient hospital settings where implementation is based in the hospital context

 - Mixed context studies where at least one setting is hospital-based (and data is reported for staff in that setting)

Exclusions: community-based, population-based, school-based, prison-based, outreach studies, nursing homes.

 3. Population

Hospital staff of any type including:

 - Health care providers (doctors, nurses, allied health professionals), IT, managers, administrators

Exclusions: no staff who were working in the hospital at the time of implementation were excluded. Any papers that collected data from staff who were not hospital-based were excluded based on criterion 2, study setting. For example, studies based in community health settings with community health workers were excluded based on setting. However, if a hospital study involved both clinical and community staff in a hospital-based implementation, all staff involved in the implementation were included.

 4. Interventions

The intervention focused on direct patient care outcomes including:

 - Direct patient interventions such as therapy or behavioral change interventions

 - Interventions with direct patient benefit, e.g., hygienic interventions, staff behavioral or communication based interventions designed to improve patient outcomes

Exclusions: medical record management or IT interventions, interventions focused on administration outcomes, e.g., rostering change interventions.

 5. Formal collection of data about implementation processes

The study contains formal, objectively collected data (quantitative or qualitative) from staff on barriers and facilitators to implementation (at any stage: pre, post, or during the process) including:

 - Interviews/focus groups with staff participants where questions specifically asked about the implementation

 - Surveys/questionnaires with staff participants on barriers to the implementation

Exclusions: any papers that did not directly assess the implementation process, as well as any studies that did not provide any formal data (as specified above) from staff participants about the implementation process. Therefore all studies that assessed the intervention only were excluded, as well as studies which provided only descriptive or anecdotal information about the implementation.
A study was eligible for inclusion if (1) it was an original research study published in full, (2) it was hospital-based, (3) participants surveyed about the implementation were hospital staff, (4) the intervention involved direct patient care, and (5) it included formal collection of data from participating staff about barriers and facilitators to the implementation process.
No study design was excluded, but studies needed to meet all five criteria to be eligible. Only studies in English were assessed, and studies that could not be accessed in full (such as conference abstracts) were excluded, as there was insufficient detail to determine whether they met the additional exclusion criteria. We included studies that provided any formal data, quantitative (such as surveys and Likert ratings) or qualitative (such as interviews and focus groups), regarding implementation barriers and facilitators either anticipated pre-implementation or encountered during implementation. In assessing eligibility, included studies were required to have collected formal data related to the implementation specifically, rather than the intervention itself [
11
]. The need to separate assessment of implementation processes from interventions has been highlighted in the recent Standards for Reporting Implementation Studies (StaRI), which note that this distinction is crucial for allowing researchers to identify the key components that lead to effective translation of evidence into practice [
18
]. Therefore, our analysis focused solely on papers which identified the barriers and facilitators that affect the implementation process, rather than the intervention. This meant that all papers that reported only data about the intervention outcomes (including effectiveness data) were not considered eligible. Interventions were defined as being focused on patient care if they had either direct patient contact (such as patient-targeted behavioral interventions) or had a direct impact on patient outcomes (such as quality and safety interventions). Some studies retrieved dealt exclusively with introducing electronic records; these were not included as they had no patient-centered focus. Further detail on exclusion and examples of excluded papers for each eligibility criterion are provided in Additional file
2
.
Several theories and taxonomies have been proposed to guide measurement of success that include issues of uptake, penetration, cost-effectiveness, and sustainability [
19
]. However, very few identified studies used a theory or framework to guide their definition of success. Therefore, for the purposes of this review, we used the barometer of success defined by each individual study.
Study selection process
Decisions regarding eligibility were made by LG and verified by co-authors. Studies were initially screened by title and abstract; the remaining articles underwent a full-text analysis. All studies were initially reviewed by the first author (LG), with a subset of articles (10%) also subject to team review to assure consistency. No formal analysis of agreement was carried out for this stage of study selection, as any disagreements were resolved by iterative discussion until consensus was reached.
Data extraction and analysis of included articles
For all included articles, we collected descriptive information comprising author, date of publication, participant group, and study design. To extract and synthesize data on barriers and facilitators, we used the Framework Analysis approach [
20
] and generated a data abstraction matrix to organize and display content.
Qualitative synthesis was accomplished in a series of stages as follows: (1) reviewing a subset of the included articles to familiarize the research team with the literature base, (2) deriving a series of codes and subcodes that reflected key concepts within the data, (3) developing these concepts into an overarching thematic framework of categories, (4) systematically indexing each article according to the framework, entering summary data (quantitative studies), and verbatim quotes (qualitative studies) into the cells of the matrix. Initial codes were generated by the first author and were refined together by the team in a series of iterative reviews, to ensure clarity and synthesis of data [
21
].
Given the unique context being explored, we decided to undertake this inductive approach rather than using an existing theoretical framework initially, as this allowed us to see what factors arose in real world studies, rather than imposing a specific framework initially.
Quality assessment
We used the Critical Appraisal Skills Program (CASP) [
22
] for qualitative studies, and the Mixed Method Assessment tool (MMAT) [
23
] for quantitative and mixed method studies. These were selected because they have an extensive scoring guide, sound psychometric properties, capture a range of key components of qualitative research (CASP), and specifically assess both quantitative descriptive and mixed methods research (MMAT).
Quality assessment was based on the implementation data provided, rather than the overall study data. All papers were reviewed against these checklists (LG), and a subset of papers (6) were reviewed by a second author (NR) to assess for agreement. We defined agreement as the proportion of items where both raters gave a positive (yes) or a negative (cannot tell, no) score. A formal analysis of agreement was carried out based on Cohen's Kappa for inter-rater reliability, and scores varied from 0.45 to 0.61 between raters, indicating moderate to substantial agreement according to Landis and Koch's standards [
24
]. Discrepancies were resolved through iterative discussions.
Results
Discussion
This systematic review of staff-reported barriers and facilitators to implementation of hospital-based, patient-focused interventions highlights two crucial pieces of information for researchers, policy-makers, and health service staff. First, there are key domains that must be considered to support effective implementation in hospital settings, and secondly, the interrelationships between these domains can be leveraged to address barriers and amplify facilitators. Our analysis indicated the presence of three overarching domains that could influence the implementation process: system, staff, and intervention. The evidence of distinct domains and their interrelationships confirms prior research and theory that implementation success is influenced by a dynamic range of barriers and facilitators. While the wide range of relevant sub-domains may seem overwhelming, it can also be empowering, as it highlights the many avenues through which researchers, health service staff, administrators, and managers can positively shape intervention design and implementation strategies. Each of the three main domains had a significant influence on implementation success; we discuss each in turn, describe interrelationships, and reflect on directions for future research below.
With five domains and 39 constructs, the CFIR provides a more nuanced conceptualization of factors impacting implementation success and therefore provides a means of expanding and exploring in more depth the domains identified in our analysis. In contrast, our review generated a simplified view of factors, which may be more pragmatic for busy hospital environments. In real world research, it is clear that at some points, pragmatism is required, while at other times, a more detailed understanding is needed, and this is a constant balance for implementation scientists.
Conclusions
Our findings have clear practical implications for researchers and health service staff seeking to develop and implement feasible and acceptable interventions in hospital settings. They highlight the need to consider staff and system domains as active components in the change process rather than imposing change. An ongoing process of reflection and evaluation is indicated, with early engagement in intervention design, involvement and regular dialog with staff during pilot testing, and full-scale delivery of the intervention, including staff at administrative and managerial levels. Implementation scientists may benefit from reflecting on the interrelationships between the three domains identified in this review, to understand the bidirectional associations between different domains within the hospital setting. The greater our understanding of these associations, the more likely we are to be able to implement interventions that are meaningful, acceptable, and positively impact on health outcomes.
Acknowledgements
The authors acknowledge Doga Dimerr for the assistance in screening preliminary articles for the review.
Funding
This systematic review was conducted as part of the PhD candidature of Liesbeth Geerligs and developed as part of the Anxiety and Depression Pathway (ADAPT) Program, led by the Psycho-oncology Cooperative Research Group (PoCoG). The ADAPT Program is funded by a Translational Program Grant from the Cancer Institute NSW. Liesbeth Geerligs is funded by a scholarship from the Australian Post-Graduate Awards Scheme (Australian Government) and additional top-up funding from Sydney Catalyst and the ADAPT Program. The funding bodies had no role in study design, data collection, analysis, or writing of the manuscript.
Availability of data and materials
Not applicable
Ethics approval and consent to participate
Not applicable
Consent for publication
Not applicable
Competing interests
The authors declare that they have no competing interests.
Publisher's Note
Springer Nature remains neutral with regard to jurisdictional claims in published maps and institutional affiliations.
Open Access
This article is distributed under the terms of the Creative Commons Attribution 4.0 International License (
http://​creativecommons.​org/​licenses/​by/​4.​0/​
), which permits unrestricted use, distribution, and reproduction in any medium, provided you give appropriate credit to the original author(s) and the source, provide a link to the Creative Commons license, and indicate if changes were made. The Creative Commons Public Domain Dedication waiver (
http://​creativecommons.​org/​publicdomain/​zero/​1.​0/​
) applies to the data made available in this article, unless otherwise stated.