28.11.2016 | Review | Ausgabe 1/2017 Open Access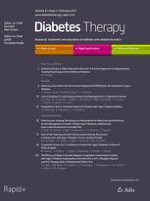 How Can a Good Idea Fail? Basal Insulin Peglispro [LY2605541] for the Treatment of Type 2 Diabetes
Zeitschrift:
Autoren:

Araceli Muñoz-Garach, María Molina-Vega, Francisco J. Tinahones
Abstract
Introduction
Lack of control in diabetic patients has stimulated the development of new insulin analogues. One of these was basal insulin peglispro (BIL) or LY2605541; it had a large hydrodynamic size, flat pharmacokinetic profile, half life of 2–3 days and acted preferably in the liver.
Methods
We reviewed the recent literature examining the pharmacokinetics, pharmacodynamics, efficacy and safety of BIL treatment in type 2 diabetes patients.
Results
The pharmacodynamic and pharmacokinetic outline of BIL seemed to have an advantage over neutral protamine Hagedorn and glargine insulins. Recently, phase 3 studies suggested BIL was superior to glargine in reducing glucose levels in type 1 and type 2 diabetes patients in addition to causing less weight gain. It showed a different hypoglycaemia rate profile depending on the study population, with less nocturnal hypoglycaemia compared to glargine. Unfortunately, it caused higher transaminase and triglyceride levels, which led the company to discontinue development. The decision came after it had been analysed by the regulatory authorities and other external experts concerning the worse liver profile data from the IMAGINE trials.
Conclusions
BIL was an adequate basal insulin analogue with interesting specific properties. Unfortunately the disadvantages as shown in the lipid values and liver function tests led to its failure.