01.04.2015 | Symposium: 2014 Bernese Hip Symposium | Ausgabe 4/2015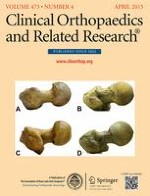 How Do Acetabular Version and Femoral Head Coverage Change With Skeletal Maturity?
Zeitschrift:
Autoren:

MD Andreas M. Hingsammer, MD Sarah Bixby, PhD David Zurakowski, MD, PhD Yi-Meng Yen, MD, PhD Young-Jo Kim
Wichtige Hinweise
Each author certifies that he or she, or a member of his or her immediate family, has no funding or commercial associations (eg, consultancies, stock ownership, equity interest, patent/licensing arrangements, etc) that might pose a conflict of interest in connection with the submitted article.
All ICMJE Conflict of Interest Forms for authors and
Clinical Orthopaedics and Related Research
®
editors and board members are on file with the publication and can be viewed on request.
Clinical Orthopaedics and Related Research
®
neither advocates nor endorses the use of any treatment, drug, or device. Readers are encouraged to always seek additional information, including FDA-approval status, of any drug or device prior to clinical use.
Each author certifies that the institution approved the human protocol for this investigation, that all investigations were conducted in conformity with ethical principles of research, and that informed consent for participation in the study was obtained.
This work was performed at the Children's Hospital Boston, Boston, MA, USA.
Abstract
Background
Normal changes in acetabular version over the course of skeletal development have not been well characterized. Knowledge of normal version development is important because acetabular retroversion has been implicated in several pathologic hip processes.
Questions/purposes
The purpose of this study was to characterize the orientation of the acetabulum by measuring (1) acetabular version and (2) acetabular sector angles in pediatric patients during development. We also sought to determine whether these parameters vary by sex in the developing child.
Methods
We evaluated CT images of 200 hips in 100 asymptomatic pediatric patients (45 boys, 55 girls; mean age, 13.5 years; range, 9–18 years) stratified by the status of the triradiate physis and sex. We determined the acetabular anteversion angle at various levels in the axial plane as well as acetabular sector angles at five radial planes around the acetabulum.
Results
For both genders, anteversion angle was greater for the closed physis group throughout all levels (p < 0.001) and both open and closed physis groups were more anteverted as the cut moved caudally away from the acetabular roof (p < 0.001). At the center of the femoral head, the mean anteversion angle (± SD) in girls was 15° ± 3° in the open group and 19° ± 5° in the closed group (p < 0.001). In boys, the mean anteversion angle increased from 14° ± 4° in the open group to 19° ± 4° in the closed group (p = 0.003). In the superior, posterosuperior, and posterior planes, the acetabular sector angles were greater in the closed compared with the open physis group for both boys and girls with the largest increase occurring in the male posterosuperior plane (approximately 20°) (all p < 0.05).
Conclusions
This study demonstrates that acetabular anteversion and acetabular sector angles in both male and female subjects increase with skeletal maturity as a result of growth of the posterior wall. This suggests that radiographic appearance of acetabular retroversion may not be attributable to overgrowth of the anterior wall but rather insufficient growth of the posterior wall, which has clinical treatment implications for pincer-type impingement.
Level of Evidence
Level IV diagnostic study.