31.07.2018 | Original Research | Ausgabe 11/2018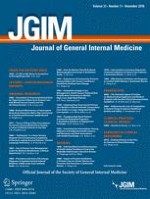 How Do Women View Risk-Based Mammography Screening? A Qualitative Study
Zeitschrift:
Autoren:

PhD, MPH Xiaofei He, PhD, MPH Karen E. Schifferdecker, PhD Elissa M. Ozanne, ScD Anna N. A. Tosteson, MD, MS Steven Woloshin, MD, MS Lisa M. Schwartz
Wichtige Hinweise
Electronic supplementary material
Abstract
Background
Decades of persuasive messages have reinforced the importance of traditional screening mammography at regular intervals. A potential new paradigm, risk-based screening, adjusts mammography frequency based on a woman's estimated breast cancer risk in order to maximize mortality reduction while minimizing false positives and overdiagnosis. Women's views of risk-based screening are unknown.
Objective
To explore women's views and personal acceptability of a potential risk-based mammography screening paradigm.
Design
Four semi-structured focus group discussions about screening mammography and surveys before provision of information about risk-based screening. We analyzed coded focus group transcripts using a mixed deductive (content analysis) and inductive (grounded theory) approach.
Participants
Convenience sample of 29 women (40–74 years old) with no personal history of breast cancer recruited by print and online media in New Hampshire and Vermont.
Results
Twenty-seven out of 29 women reported having undergone mammography screening. All participants were white and most were highly educated. Some women accepted the idea that early cancer detection with traditional screening was beneficial—although many also reported hearing inconsistent recommendations from clinicians and mixed messages from media reports about mammography. Some women were familiar with a risk-based screening paradigm (primarily related to cervical cancer,
n
 = 8) and thought matching screening mammography frequency to personal risk made sense (
n
 = 8). Personal acceptability of risk-based screening was mixed. Some believed risk-based screening could reduce the harms of false positives and overdiagnosis (
n
 = 7). Others thought screening less often might result in missing a dangerous diagnosis (
n
 = 14). Many (
n
 = 18) expressed concerns about the feasibility of risk-based screening and questioned whether breast cancer risk estimates could be accurate. Some suspected that risk-based mammography was motivated by a desire to save money (
n
 = 6).
Conclusion
Some women thought risk-based screening made sense. Willingness to abandon traditional screening for the new paradigm was mixed. Broad acceptability of risk-based screening will require clearer communication about its rationale and feasibility and consistent messages from the health care team.