01.12.2015 | Research | Ausgabe 1/2015 Open Access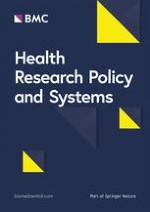 How does context influence performance of community health workers in low- and middle-income countries? Evidence from the literature
Zeitschrift:
Autoren:

Maryse C Kok, Sumit S Kane, Olivia Tulloch, Hermen Ormel, Sally Theobald, Marjolein Dieleman, Miriam Taegtmeyer, Jacqueline EW Broerse, Korrie AM de Koning
Wichtige Hinweise
Electronic supplementary material
The online version of this article (doi:
10.​1186/​s12961-015-0001-3
) contains supplementary material, which is available to authorized users.
Competing interests
The authors declare that they have no competing interests.
Author's contributions
MK, SK, HO, and KK contributed towards the review design, data identification, and analysis. MK drafted the manuscript and all authors contributed towards revision of the manuscript, with substantial input from OT, ST, MD, MT, and JB mainly on the discussion section. All authors read and approved the final manuscript.
Abbreviations
ASHA
Accredited social health activist
CBD
Community based distributor
CBSV
Community based surveillance volunteer
HSA
Health surveillance assistant
LMIC
Low- and middle-income country
NGO
Non-governmental organization
Background
Community health workers (CHWs) are involved in the delivery of health services to the community and constitute the first point of contact on health-related issues in many low- and middle-income countries (LMICs). There are a wide variety of CHWs, with different names, working voluntarily or paid, with multiple or single and community-based or (partly) facility-based tasks [
1
,
2
]. CHWs have been defined as follows: "
Any health workers carrying out functions related to health care delivery; trained in some way in the context of the intervention, and having no formal professional or paraprofessional certificate or degree in tertiary education
" [
3
]. In addition, it is argued that CHWs "
should be members of the communities where they work, should be selected by the communities, should be answerable to the communities for their activities, should be supported by the health system but not necessarily a part of its organisation and have shorter training than professional workers
" [
4
].
Shortages in human resources for health and evidence that CHWs can significantly contribute to the health of the population by effectively delivering key interventions in primary and community health care have led to a renewed interest in CHW programmes in LMICs [
1
,
3
,
5
,
6
]. It is important to better understand the factors influencing performance of CHWs, since these are related to the success or failure of CHW programmes. Evidence on factors influencing CHW performance can help to improve CHW programme design and management.
Factors influencing CHW performance can be divided into intervention design factors that can be directly shaped and adjusted (such as supervision, incentives, training, and monitoring and evaluation mechanisms) and factors that represent the context in which a CHW intervention is taking place, which are less easily adjustable [
5
]. Research seldom focuses on the implications of context for CHW or programme performance [
7
]. Understanding the socio-cultural, economic, and political context in which CHW interventions operate is an important precondition for the design of successful interventions [
2
,
5
,
8
,
9
]. The health system in which CHW interventions take place often presents preconditions or limitations to the functionality of CHW programmes [
1
,
5
,
9
-
11
].
We conducted a systematic review with a narrative analysis on contextual factors influencing performance of CHWs, to contribute to the evidence-base on how these influence CHW or CHW programme performance. We make recommendations on the inclusion of context as an important element in CHW programme design and future research.
Methodology
The literature review was part of a larger review that focused on both intervention design factors and contextual factors influencing the performance of close-to-community providers (presenting a wider range of health workers than CHWs, including auxiliary staff). For the purpose of this article, we focus on CHWs, as most of the evidence on contextual factors influencing performance was related to CHWs. We included quantitative, qualitative, and mixed-methods studies about CHWs working in promotional, preventive, or curative primary health care in LMICs. The studies should have described at least one factor related to the context in which CHWs work. The review covered studies including CHWs, their clients and their families/carers, CHW supervisors, the wider community, policy makers, program managers, other (professional) health workers, and any others directly involved in or affected by CHW service provision. We differentiated CHW performance outcome measures at two levels: CHW level (this included self-esteem, motivation, attitudes, competencies, guideline adherence, job satisfaction, and capacity to facilitate community agency as characteristics of performance) and end-user level (this included utilization of services, health-seeking behaviour, adoption of practices promoting health, and community empowerment as characteristics of performance) [
10
,
12
]. CHW level outcomes contribute to end-user level outcomes and both outcome levels constitute CHW performance, ultimately contributing to changes in the health of the population (impact) [
13
,
14
].
We searched EMBASE, PubMed, Cochrane, CINAHL, POPLINE, and NHS-EED for eligible studies. The search strategy was adapted from Lewin et al. [
3
] and is published elsewhere [
13
]. We searched reference lists of all relevant papers and reviews identified. We included English language studies from 2007 to July 2013, as the number of hits was large. We used a framework approach [
15
] and our preliminary conceptual framework [
13
] included predefined categories of contextual factors influencing CHW performance. These categories were: community context, policy context, health system factors, and other contextual factors and were based on reading of selected international literature [
1
,
5
,
9
,
10
,
12
,
13
,
16
-
18
]. A related review on intervention design factors influencing CHW performance is published elsewhere [
13
].
Two reviewers independently assessed the titles and abstracts of the identified records to evaluate their potential eligibility. In the case of different opinions, inclusion was discussed between the two reviewers until consensus was reached. The full-text papers were double assessed by a team of four reviewers.
We used a standardized data extraction form containing the description of the intervention, study, outcome measures, and the predefined contextual factors. The quality of included literature was assessed independently by two reviewers, with an adapted version of the Critical Appraisal Skills Programme method [
19
]. The quality assessment of studies was conducted to decide upon inclusion, but the level of quality was not taken into account during data analysis as the methodologies of included studies varied. Two reviewers analysed the content of included papers using thematic coding and the main categories of contextual factors influencing CHW performance from the preliminary conceptual framework were adjusted according to the findings [
15
].
Results
Discussion
Our findings indicate that contextual factors influence CHW performance at the CHW level (e.g., motivation or competencies), the end-user level (e.g., influencing health-seeking behaviour), or by influencing broader CHW programme performance (Figure
2
). These factors relate to community (most prominently), economy, environment, and health system policy and practice and form a complex interactive web. They represent characteristics of settings in which a CHW programme operates and sometimes serve as preconditions for the performance of CHWs or CHW programmes. Factors that were found to be preconditions, such as the presence of well-functioning health services including logistics and supplies, were affecting CHWs' ability to conduct their job. They were also related to CHW and end-user outcome levels, selected as outcome measures and comprising CHW performance in this review. For example, the absence of well-functioning health services influenced levels of motivation and job satisfaction (at the CHW outcome level) and utilization of services at the end-user outcome level. Policy makers and implementers of CHW interventions have to anticipate on and make use of the context particular to their setting to reach optimal performance.
×
Socio-cultural factors can influence access to and uptake of (CHW) health services. As CHWs are part of the context in which clients are living, it is often assumed that they are better able to understand constraints as a result of socio-cultural factors, compared with other health workers [
1
,
5
]. Findings from our review are similar to those of a systematic review of community participation in malaria control [
115
]; this review showed that, in certain cases, CHWs were able to shift health-seeking behaviour towards increased utilization of services, but in others they were not. Contextual analyses are needed to understand how CHWs could be better used to stimulate health care seeking and reduce stigma or modify socio-cultural norms and beliefs amongst different groups. At the same time, reflection on norms and values and addressing power relations are rarely the focus of CHW interventions, which could explain why it is difficult for CHWs to address these issues. Poor adherence to the CHW's advice or poor health-seeking behaviour could be exacerbated by low education levels of the target group [
116
]. Lack of skills of the CHW to use effective health education strategies and community dialogue interventions may lead to a lack of compliance with their advice, frustration, and blaming the client to be 'ignorant'. Understanding of community practices and beliefs could assist policy makers in shaping CHW programmes, for example, providing training and supervision to equip CHWs with the right facilitation skills to initiate reflection on practices and beliefs that, from a public health perspective, hinder people from changing behaviour or accessing services.
Our review identified the influence of social hierarchies on CHW acceptance and performance. Palazuelos et al. emphasized the importance of structures and dynamics of societal interaction; the way power is shared within a society and the trust people have in those with power as factors influencing performance of CHW programmes [
9
]. Recently, a South African study reported unintended CHW programme outcomes as a result of multi-layered practices of power [
117
]. In communities where government or local leaders have a big influence, it could be advisable to involve them in the CHW programme, although in some contexts this could perpetuate existing social inequities and power imbalances. Thus, there is a delicate balance between working with and influencing context.
Social and cultural norms should be taken into consideration when selecting CHWs to address community preferences regarding sex and social status. Some communities prefer female CHWs yet they may be less able to perform because of societal and gendered restrictions in mobility or communication with male clients. Gender roles and relations shape processes and experiences within the community and within the health system and CHWs have a critical interface role between both sides. Mumtaz et al. reported that lady health workers in Pakistan were introduced because they were assumed to be better able to respond to gender-based constraints on women's access to health services, but they themselves faced problems because they operated in the same gender systems that necessitated their appointment [
118
,
119
]. This led to low job satisfaction and significant negative implications for the quality of services provided. Gender norms could also influence decisions on becoming or retaining a CHW. This could be a consideration when designing voluntary CHW programmes, especially in patriarchal, poor societies where men are not easily involved in voluntary work. Involvement of husbands was found to enhance coverage of CHW services in maternal health [
34
,
36
]. Although many studies point to the beneficial effect of male involvement in programmes for the prevention of mother to child transmission of HIV [
120
], a study from Malawi showed low adherence to HIV treatment of women with husbands that did not know the HIV status of their wives [
52
]. This highlights the importance of understanding how gender roles and relations influence health-seeking behaviour and responding appropriately. CHWs thus need to be supported to be able to assess and react to this context in promoting health-seeking behaviour.
Stigma is a culturally specific construct that could influence CHW performance. When stigma is profound, certain CHW programmes should be adjusted to improve performance, for example by integration of HIV services into other health services to avoid patients being identified [
121
].
Existence of CHW-related policies was found to be important. However, recognition and integration of CHWs in the health system seem to be more important for CHW performance than the existence of a CHW policy
per se
[
78
,
90
]. The importance of inserting CHW programmes in the wider health system and the human resource strategic planning has also been identified by others [
1
,
10
,
11
]. Formally employed CHWs are more likely than voluntary CHWs to be covered by policies and frameworks regulating their rights, this promotes sustainability of programmes.
Regulatory frameworks regarding the procedures CHWs are allowed to perform will become more important when CHWs become involved in providing curative services [
2
]. These regulatory frameworks should protect CHWs in case of adverse outcomes.
The functionality of the health system as a whole has an influence on CHW performance. From our literature review, it is clear that necessary arrangements regarding incentives, supervision, referral, supplies, and training are often inadequate and that CHWs' expectations regarding these issues do not correspond with reality [
1
,
9
-
11
,
116
,
122
,
123
]. Performance- or output-based incentives could lead to competition or neglect of unpaid tasks, hampering CHW performance [
29
,
49
]. Hierarchical structures and vertical programmes within the health system hamper communication among CHWs, other health staff and management, and among NGOs that employ CHWs, negatively affecting CHW performance. Certain characteristics of vertical programmes, such as clear objectives and work schedules and frequent supervision, are assumed to facilitate performance [
124
]. However the existence of multiple vertical programmes could also lead to confusion at the community level as a result of unclear division of roles and responsibilities of different types of CHWs involved in these programmes and to dissatisfaction at the CHW level, because of differences in policies regarding incentives and career advancement. Thus, multiple vertical programmes could negatively influence CHW performance.
A limitation of this literature review is that we may have omitted studies, because only English language studies from 2007 to 2013 were included. We did not identify many studies reporting on power structures, the history of community organizations or structures, the role of professional associations, political commitment, and accountability structures. The categorization of factors as presented in this paper is based on a health systems perspective and is not static. Broader factors such as non-health-related governance structures, policy, and justice issues, and societal perspectives on volunteerism were not found in the selected literature, but might be factors that could influence CHW or programme performance. The quality of included studies was assessed to decide on inclusion but not used to 'weigh' the synthesis towards the findings of included studies, because of the wide range of types of studies included. Another limitation of this review is that in many of the included studies, the context and specific characteristics of CHWs were poorly described. Often, studies lacked "thick descriptions" [
125
], making it difficult for the reader to assess the relevance and depth of detail of context as well as similarities and differences across and between various contexts. Therefore, it is difficult to generalize the findings from one study to other settings (inferential generalization) and to draw theoretical propositions, principles, or statements from the findings of a study for more general application (theoretical or analytical generalization) [
126
,
127
]. Despite this, we have been able to identify some socio-cultural-related factors that influence performance of CHWs across different settings, supporting a discussion of theoretical generalizability.
The importance of describing context has been endorsed before in CHW related research [
3
,
7
,
12
,
116
]. Health systems are part of their social, political, and economic settings, responding to health needs that are generated by the same contextual factors. Context influences the daily practice of the health system through the experiences, mind-sets, and values that shape the behaviour of actors within it and, therefore, despite similar elements and patterns, they can respond differently to the same new idea, policy, or intervention. In order to bring positive change to health systems, health policy and systems research that fully accounts for context is required [
128
]. With regard to research on CHW performance, CHWs' interface role makes it important to understand context from within communities and the health system, which are again shaped by policy and other factors. Therefore, qualitative and theory-driven approaches in research and evaluation of CHW programmes are recommended. Research which includes adequate descriptions and analysis of context is needed to provide evidence on the influence of contextual factors on CHW performance as the current evidence is not sufficient to assist policy makers to develop CHW programmes and interventions that anticipate or make use of context.
Conclusions
This systematic synthesis of evidence shows that contextual factors related to community (most prominently), economy, environment, and health system policy and practice can influence CHW performance. Contextual factors can interact with each other to shape CHW performance and affect the performance of CHW interventions or programmes. While the current body of research often does not capture and explain the context in which CHW interventions take place, this synthesis, given its wide scope, provides understanding of the influence of context on CHW and programme performance. Future health policy and systems research should better address the complexity and the influence of context to support policy makers and programme managers to improve CHW interventions.
Acknowledgements
The review presented in this article is part of the REACHOUT programme, funded by the European Union Seventh Framework Programme ([FP7/2007–2013] [FP7/2007-2011]) under grant agreement nr. 306090. REACHOUT is an ambitious 5-year international research consortium aiming to generate knowledge to strengthen the performance of CHWs and other close-to-community providers of promotional, preventive, and curative primary health services in rural and urban areas in Africa and Asia. We would like to thank Ilse Egers, from the Royal Tropical Institute, who helped with the initial literature search.
This article is published under license to BioMed Central Ltd. This is an Open Access article distributed under the terms of the Creative Commons Attribution License (
http://​creativecommons.​org/​licenses/​by/​4.​0
), which permits unrestricted use, distribution, and reproduction in any medium, provided the original work is properly credited. The Creative Commons Public Domain Dedication waiver (
http://​creativecommons.​org/​publicdomain/​zero/​1.​0/​
) applies to the data made available in this article, unless otherwise stated.
Competing interests
The authors declare that they have no competing interests.
Author's contributions
MK, SK, HO, and KK contributed towards the review design, data identification, and analysis. MK drafted the manuscript and all authors contributed towards revision of the manuscript, with substantial input from OT, ST, MD, MT, and JB mainly on the discussion section. All authors read and approved the final manuscript.