01.12.2017 | Research article | Ausgabe 1/2017 Open Access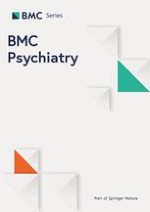 How effective are interventions to improve social outcomes among offenders with personality disorder: a systematic review
Zeitschrift:
Autoren:

Catriona Connell, Vivek Furtado, Elizabeth A. McKay, Swaran P. Singh
Wichtige Hinweise
Electronic supplementary material
Abbreviations
ASPD
Antisocial personality disorder
CBT
Cognitive behavioural therapy
PCL-SV
Psychopathy checklist - screening version
PDO
Personality disordered offender
RCT
Randomised controlled trial
SFQ
Social functioning questionnaire
WSAS
Work and social adjustment scale
Background
Personality disorder is highly prevalent among men and women with an offending history. In the United Kingdom, 64-78% of the adult male prison population and 50% of females meet diagnostic criteria for at least one personality disorder [
1
]. Personality disorder is the most common mental disorder in the probation population, affecting up to half of probationers [
2
]. Within high secure psychiatric facilities, personality disorder is definitely diagnosable in 57-77% of male patients [
3
]. People with an offending history and personality disorder (personality disordered offenders: PDOs) are a group whose difficulties come at a considerable cost to themselves, potential victims, the communities in which they live and return, and to society as whole who must meet the costs of service provision. PDOs experience worse physical and mental health, poorer quality of life, reoffend at higher rates and are overrepresented in the commission of serious further offences [
4
–
6
], indicating existing approaches may be overlooking important factors.
PDOs are supported by health, criminal justice, social care and third sector services. Whilst approaches have varied internationally and over time, a consistent theme is the requirement of services to reduce risk, improve health and improve social outcomes [
7
,
8
].
Social outcomes are those that result from functioning effectively in society, for example participation through employment, family roles and independent living. In this paper, social outcomes are conceptualised as
participation
, as defined by the World Health Organization [
9
] as 'involvement in a life situation'. Attention to participation among PDOs is vital for two reasons. Firstly participation in personally meaningful
and socially valued
(prosocial) activities is integral to functioning, health and social outcomes [
9
]. Secondly, in offender populations, participation is also associated with desistance and reduced risk of reoffending [
10
–
12
]. Conversely, offenders who do not participate in prosocial activities (e.g. remain unemployed or lack prosocial relationships) or participate in antisocial activities (gang affiliation, substance use) are at higher risk of reoffending [
13
].
Social outcomes for ex-offenders are poor. For example in the UK the employment rate is only 27% on leaving prison [
14
], and of those referred to support agencies only 16% found and kept employment for 6 months or more [
15
]. Research into interventions to facilitate participation and improve social outcomes amongst PDOs specifically is limited, despite this important contributor to health, quality of life and desistance often being mentioned as an aim of service providers.
Objectives
The objective of the review was to determine the effectiveness of interventions to improve social outcomes among offenders with personality disorder.
Methods
We conducted the review according to the stages outlined in the Cochrane Collaboration handbook for systematic reviews [
16
]. Review methods and inclusion criteria were pre-specified in a protocol and registered on PROSPERO: ID = CRD42016042304 [
17
].
Eligibility criteria
We included English language studies reporting research where participants were adult offenders with personality disorder, reporting any intervention (e.g. psychological, pharmacological, occupational, social) and a social outcome, i.e. participation in a community setting. No limitations were placed on date or quality of research papers. Opinion pieces, commentaries or service descriptions, editorials, and publications addressing laws, policies and/or media reports were excluded.
Offender status was defined as having committed at least one criminal offence as reported from an official source or self-report. Personality disorder or psychopathy was considered present where participants had a formal diagnosis indicated by use of structured tool or justified method. Social outcome was defined as participating in any prosocial activity or engaging in a social role in a community setting (not prison/inpatient hospital) after encountering criminal justice services. For example, employment, volunteering, running a household, caring for children or being in an intimate relationship.
Information sources
We searched databases for criminal justice, psychological, social, allied health and psychiatric research (Web of Science, SCOPUS, PubMed, EMBASE, AMED, CINAHL, ASSIA, PsycINFO, National Criminal Justice Reference Service (NCJRS) Abstracts Database, Cochrane collaboration, Campbell collaboration) and grey literature (theses, relevant reports, UK government documents). Original database searches were completed in July 2016. Automatic database searches were used to maintain an up-to-date review until September 2017. We reviewed reference lists of included studies and key papers. Relevant journals were surveyed on a regular basis.
Search strategy
The search strategy was tailored to the requirements of each database with input from a search strategist to include terms pertaining to 1) personality disorder or psychopathy, and 2) offenders, and 3) participation in a community setting.
Study selection
We imported database results into Endnote reference management software [
18
] and removed duplicates. All titles and abstracts were screened to determine if a citation met inclusion criteria by CC. A random selection of citations (
n
 = 400, 22%) was independently reviewed by the second reviewer (VF). Inter-rater reliability reached substantial agreement, calculated using Cohen's Kappa [
19
,
20
]. Where agreement was not reached on inclusion by discussion the third reviewer (EAM) reviewed the material and gave a definitive judgement. Where insufficient information was available from the abstract the full text was obtained to determine if it met inclusion criteria.
Data collection
A data extraction tool was refined after piloting to include: year of data collection, country of origin, the aim/hypothesis of the study, study design, inclusion criteria, participant demographics, personality disorder diagnosis method and prevalence within sample, offender status, participation outcome of interest, description of intervention, analysis method, and results. Due to the small number of included studies, CC extracted all the data which was checked by the second and third reviewers (VF, EAM).
Risk of bias in individual studies
Summary measures
As social outcome and participation are rarely discussed in the literature, it was unlikely that these terms would be used as study outcomes. To identify relevant outcomes, a range of terms were anticipated, e.g. employment, education, intimate relationship, community roles and leisure activities. Terms were derived from the WHO International Classification of Functioning chapters on activity and participation [
24
].
Data synthesis
The Cochrane Collaboration four-step method of narrative synthesis of effectiveness studies [
25
] was applied with consideration to the inclusion of non-RCT designs. The steps are as follows: 1) Develop a theory of how interventions operate, 2) Preliminary synthesis of findings, 3) Exploring relationships in the data within and between studies, 4) Assessing the robustness of the synthesis.
Results
Discussion
Conclusions
No interventions identified were designed to specifically improve social outcomes in the community among PDOs. There is some evidence that employment can be achieved although changes cannot be attributed to interventions due to the study designs used. There was no evidence for interventions aiming to improve social functioning.
There is a sizeable gap in the literature reporting interventions to improve social outcomes, describing the mechanisms by which they are proposed to work, and testing effectiveness. This is further constrained by the focus on different outcomes and variation in how they are measured. Consequently, services for PDOs are unable to apply evidence-based interventions that are likely to increase social outcomes among offenders with personality disorder in the community.
Implications for practice
Services and practitioners working with PDOs in the community currently lack evidence on which to base interventions that specifically target social outcomes. Service providers may consider interventions that are orientated towards achievement of a personally meaningful prosocial identity; target skill deficits that impact on successfully maintaining participation in employment and social relationships; or provide practical assistance to access prosocial roles that have previously been unfamiliar.
Implications for research
Evidence for effective interventions to improve social outcomes is lacking. Further research is required to identify the factors that influence participation, develop interventions to target these, and to test their effectiveness.
Acknowledgements
Not applicable.
Funding
This is independent research supported by the National Institute for Health Research and Health Education (NIHR/HEE ICA Programme Clinical Doctoral Research Fellowship, Ms. Catriona Connell, ICA-CDRF-2015-01-060)
.
The views expressed are those of the author(s) and not necessarily those of the NHS, the National Institute for Health Research or the Department of Health. The funding organisation had no role in design of the study or collection, analysis, and interpretation of data or in writing the manuscript.
Availability of data and materials
The dataset(s) supporting the conclusions of this article are included within the article and its additional file(s).
Ethics approval
Not applicable.
Consent for publication
Not applicable.
Competing interests
The authors declare that they have no competing interests.
Publisher's Note
Springer Nature remains neutral with regard to jurisdictional claims in published maps and institutional affiliations.
Open Access
This article is distributed under the terms of the Creative Commons Attribution 4.0 International License (
http://​creativecommons.​org/​licenses/​by/​4.​0/​
), which permits unrestricted use, distribution, and reproduction in any medium, provided you give appropriate credit to the original author(s) and the source, provide a link to the Creative Commons license, and indicate if changes were made. The Creative Commons Public Domain Dedication waiver (
http://​creativecommons.​org/​publicdomain/​zero/​1.​0/​
) applies to the data made available in this article, unless otherwise stated.