01.12.2016 | Research article | Ausgabe 1/2016 Open Access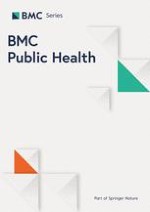 How equitable are community health worker programmes and which programme features influence equity of community health worker services? A systematic review
Zeitschrift:
Autoren:

Rosalind McCollum, Woedem Gomez, Sally Theobald, Miriam Taegtmeyer
Wichtige Hinweise
Electronic supplementary material
The online version of this article (doi:
10.​1186/​s12889-016-3043-8
) contains supplementary material, which is available to authorized users.
Competing interests
The authors declare that they have no competing interests.
Authors' contributions
RM and MT conceived of the study and participated in it's design and protocol development. RM carried out review of titles and abstracts to assess eligibility, assessed full texts against inclusion criteria, conducted data extraction, quality assessment, analysis and drafted manuscript. WG double read and assessed all full texts selected for inclusion plus 10 % of remaining full text articles, double read all data extraction and assessed quality. MT triple read full text papers where RM and WG disagreed. ST and MT critically reviewed and input to the manuscript. All authors have read and approved the final manuscript.
Abstract
Background
Community health workers (CHWs) are uniquely placed to link communities with the health system, playing a role in improving the reach of health systems and bringing health services closer to hard-to-reach and marginalised groups. A systematic review was conducted to determine the extent of equity of CHW programmes and to identify intervention design factors which influence equity of health outcomes.
Methods
In accordance with our published protocol, we systematically searched eight databases from 2004 to 2014 for quantitative and qualitative studies which assessed access, utilisation, quality or community empowerment following introduction of a CHW programme according to equity stratifiers (place of residence, gender, socio-economic position and disability). Thirty four papers met inclusion criteria. A thematic framework was applied and data extracted and managed, prior to charting and thematic analysis.
Results
To our knowledge this is the first systematic review that describes the extent of equity within CHW programmes and identifies CHW intervention design features which influence equity. CHW programmes were found to promote equity of access and utilisation for community health by reducing inequities relating to place of residence, gender, education and socio-economic position. CHWs can also contribute towards more equitable uptake of referrals at health facility level. There was no clear evidence for equitable quality of services provided by CHWs and limited information regarding the role of the CHW in generating community empowerment to respond to social determinants of health. Factors promoting greater equity of CHW services include recruitment of most poor community members as CHWs, close proximity of services to households, pre-existing social relationship with CHW, provision of home-based services, free service delivery, targeting of poor households, strengthened referral to facility, sensitisation and mobilisation of community. However, if CHW programmes are not well planned some of the barriers faced by clients at health facility level can replicate at community level.
Conclusions
CHWs promote equitable access to health promotion, disease prevention and use of curative services at household level. However, care must be taken by policymakers and implementers to take into account factors which can influence the equity of services during planning and implementation of CHW programmes.