25.07.2017 | Original Article | Ausgabe 2/2018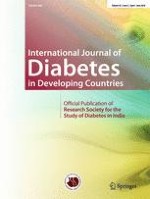 How good is procalcitonin as a marker in case of sepsis in diabetes mellitus?
Autoren:

Pawan Sagar, Ashwani Kumar, S. V. Madhu, Bineeta Kashyap
Abstract
Prompt diagnosis and treatment with appropriate antimicrobial chemotherapy are of paramount importance to reduce morbidity and mortality associated with sepsis. The limitations of blood cultures have fostered interest in the development of sensitive and rapid laboratory biomarkers of sepsis. Procalcitonin has been proposed as a marker of disease severity in septicemia. The aim of the study was to assess the accuracy and clinical value of procalcitonin for diagnosis of sepsis in diabetes mellitus. A descriptive, cross-sectional study was conducted on 30 cases of known diabetes mellitus admitted in the Endocrinology I.C.U. with suspected bacterial infection and sepsis. The bacterial isolates were identified by standard protocol. A double-antibody sandwich enzyme-linked immunosorbent one-step process assay was used to assay the levels of procalcitonin. There was positive correlation between procalcitonin levels and the number of days for total leukocyte count to subside though duration of hospital stay or time taken for fever to subside was not significantly correlating. Positivity in blood culture was significantly correlating with median procalcitonin levels though C-reactive protein levels were unable to demonstrate the same. Other markers of severity of sepsis were not significantly correlating with procalcitonin levels. No glycemic marker showed any significant correlation with procalcitonin levels. With good clinical judgment and judicious use of antimicrobial agents, procalcitonin could serve as a valuable adjunct in the diagnosis and management of sepsis with diabetes mellitus. Search for more validated biomarkers should be emphasized upon.