01.03.2013 | Current Management of Fungal Infections (L Ostrosky-Zeichner, Section Editor) | Ausgabe 1/2013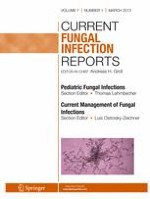 How I Treat Blastomycosis
Zeitschrift:
Autor:

Laurie A. Proia
Abstract
Blastomyces dermatitidis
, a dimorphic fungus endemic to the Midwestern, South Central and Northeastern United States, causes the disease blastomycosis. Aerosolized spores from the environment are inhaled into the lungs where primary infection may be asymptomatic or subclinical. Pneumonia, the most common presentation of symptomatic blastomycosis, can be acute, subacute or chronic. Cutaneous, osteoarticular, genitourinary or central nervous system involvement may result from extra-pulmonary dissemination. The Infectious Diseases Society of America has published treatment guidelines for blastomycosis Chapman (Clin Infect Dis 46:1801-1812,
2008
). Oral itraconazole has been the mainstay of therapy for mild to moderate infection, while amphotericin B, or alternatively a lipid formulation, is reserved for more severe infection. Newer triazoles, such as voriconazole and posaconazole, have shown clinical potential and expand available treatment options.