12.01.2019 | Original Article - Vascular Neurosurgery - Other | Ausgabe 2/2019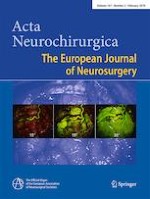 How is vasospasm screening using transcranial Doppler associated with delayed cerebral ischemia and outcomes in aneurysmal subarachnoid hemorrhage?
Zeitschrift:
Autoren:

M. Hollingworth, A. A. B. Jamjoom, D. Bulters, H. C. Patel
Wichtige Hinweise
This article is part of the Topical Collection on
Vascular Neurosurgery - Other
Publisher's note
Springer Nature remains neutral with regard to jurisdictional claims in published maps and institutional affiliations.
Comments
This study addresses an array of pitfalls in the treatment of aSAH patients. Firstly, the definition of vasospasm: which diagnostic tool and criteria can unequivocally establish its presence? Once established: how is it related to clinical symptoms and which impact will it have on outcome? Is the presence of vasospasm interchangeable with the presence of delayed cerebral ischemia (DCI)? Which criteria warrant therapeutical responses? There is no clear consensus on these questions other than both vasospasm and DCI are multifactorial and interwoven and both are subject to interpretation.
In the present study, all centres applied induced hypertension when DCI was diagnosed. Induced hypertension is widely used but concerns have been risen regarding its effectiveness and potential risks. It remains to be established what is the correct initiation time, length and level for induced hypertension. Furthermore, mere blood pressure levels are often used as therapeutic guidelines, but with respect to prevent DCI it would be more logical to use cerebral perfusion pressure levels. Even though not presenting sufficient data, the results of this study may be read in such a way that this treatment strategy may result in poorer outcome if applied in wrongly selected individuals.
TCD is a readily available bed-side tool that is not harmful per se unless its results trigger unfavourable treatment strategies. It is easy to obtain a TCD signal, however, their interpretation requires expertise. Blood velocity readings always need to be interpreted in context of hemodynamic constellations and signatures as well as their time evolvement. The impact of systemic therapeutical measures also need to be accounted for; for instance will induced hypertension increase all intracranial velocities. In such a setting velocities above 120 cm/s may merely represent the effect of therapy and not vasospasm, far less DCI. The few centres in the present study applied at least 5 different algorithms for how and in whom screening with TCD was performed. Only one centre had a clear algorithm for what represents vasospasm and therapeutical actions were decided on an individual basis. Needless to say that with lack of both diagnostic criteria and standardized responses to what is diagnosed any technology would fail to be an adequate surrogate marker for DCI. In that respect, to rely on misinterpreted TCD findings is worse than not performing TCD at all. The results of this study indicate the latter and I hope it will inspire the initiation of studies capable to bring us closer to evidence based consensus in the treatment of aSAH patients.
Abstract
Background
Delayed cerebral ischemia (DCI) is an independent predictor of an unfavorable outcome after aneurysmal subarachnoid hemorrhage (aSAH). Many centers, but not all, use transcranial Doppler (TCD) to screen for vasospasm to help predict DCI. We used the United Kingdom and Ireland Subarachnoid Haemorrhage (UKISAH) Registry to see if outcomes were better in centers that used TCD to identify vasospasm compared to those that did not.
Methods
TCD screening practices were ascertained by national survey in 13 participating centers of the UKISAH. The routine use of TCD was reported by 5 "screening" centers, leaving 7 "non-screening" centers. Using a cross-sectional cohort study design, prospectively collected data from the UKISAH Registry was used to compare DCI diagnosis and favorable outcome (Glasgow Outcome Score 4 or 5) at discharge based on reported screening practice.
Results
A cohort of 2028 aSAH patients treated ≤ 3 days of hemorrhage was analyzed. DCI was diagnosed in 239/1065 (22.4%) and 220/963 (22.8%) of patients in non-screening and screening centers respectively while 847/1065 (79.5%) and 648/963 (67.2%) achieved a favorable outcome. Odds ratios adjusted for age, injury severity, comorbidities, need for cerebrospinal fluid diversion, and re-bleed returned neutral odds of diagnosing DCI of 0.90 (95% CI 0.72–1.12;
p
value = 0.347) in screening units compared to those of non-screening units but significantly decreased odds of achieving a favorable outcome 0.56 (95% CI 0.42–0.82;
p
value < 0.001).
Conclusions
Centers that screened for vasospasm using TCD had poorer in-hospital outcomes and similar rates of DCI diagnosis compared to centers that did not.