01.11.2010 | Symposium: Highlights of the ISOLS/MSTS 2009 Meeting | Ausgabe 11/2010 Open Access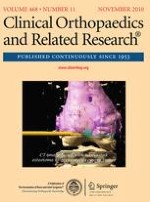 How Long Do Endoprosthetic Reconstructions for Proximal Femoral Tumors Last?
Zeitschrift:
Autoren:

MD Nicholas M. Bernthal, MD Adam J. Schwartz, MD Daniel A. Oakes, PhD J. Michael Kabo, MD Jeffrey J. Eckardt
Wichtige Hinweise
Each author certifies that he or she has no commercial associations (eg, consultancies, stock ownership, equity interest, patent/licensing arrangements, etc) that might pose a conflict of interest in connection with the submitted article.
Each author certifies that his or her institution approved the human protocol for this investigation, that all investigations were conducted in conformity with ethical principles of research, and that informed consent for participation in the study was obtained.
This work was performed at University of California Los Angeles Medical Center.
Abstract
Background
As the life expectancy of patients with musculoskeletal tumors improves, long-term studies of endoprosthetic reconstructions are necessary to establish realistic expectations for the implants and compare them to other reconstruction approaches.
Questions/purposes
(1) What is the long-term survival of cemented bipolar proximal femoral replacements? (2) How does prosthesis survival compare to patient survival among patients with Stage I, II, and III disease? (3) Do modular implants outperform custom-built prostheses? (4) Do some proximal femoral replacements require conversion to THA?
Patients and Methods
We retrospectively reviewed all 86 proximal femoral replacements used for tumor reconstruction from 1982 to 2008. Primary diagnoses were 43 high-grade tumors (IIA/IIB), 20 low-grade tumors (IA/IB or benign), and 23 with metastatic disease. We reviewed prosthesis survival, patient survival, complication rates, functional outcomes, and rates of conversion to THA.
Results
Five of 86 patients (5.8%) required revision of the femoral component. Five-, 10-and 20-year implant survivorships were 93%, 84%, and 56%, respectively. All patients with low-grade disease survived; the 5-year survival rate for patients with metastatic disease was 16%; the 5-, 10-, and 20-year survival for IIA/IIB patients was 54%, 50%, and 44%, respectively. Five of 86 patients (5.8%) underwent conversion to THA for groin pain.
Conclusions
Cemented bipolar proximal femoral replacements after tumor resection proved a durable reconstruction technique. The implants outlived patients with metastatic disease and high-grade localized disease while patients with low-grade disease outlived their implants. The survival of modular prostheses was comparable to that of older, one-piece custom designs.
Level of Evidence
Level IV, therapeutic study. See Guidelines for Authors for a complete description of levels of evidence.