13.06.2016 | Original Research | Ausgabe 2/2016 Open Access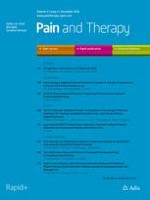 How Resistant to Tampering are Codeine Containing Analgesics on the Market? Assessing the Potential for Opioid Extraction
Zeitschrift:
Autoren:

Andreas Kimergård, Paolo Deluca, Peter Hindersson, Torben Breindahl
Abstract
Introduction
Misuse of opioid analgesics, in combination with diversion, dependence, and fatal overdoses, presents a serious problem for public health, which affects many countries worldwide. Within this context, tampering with opioids has been associated with serious harm. The aim of the present study was to assess the tampering potential of codeine combination analgesics on the market (containing codeine/non-opioid analgesics) by the extraction of codeine.
Methods
Codeine was extracted from three combination formulations sold lawfully from licensed pharmacies without a medical prescription in Denmark and the UK. Extraction of codeine followed tampering procedures available on the Internet. The amounts of codeine and accompanying non-opioid analgesics in tampering products were analysed with liquid chromatography and tandem mass spectrometry (LC–MS/MS).
Results
LC–MS/MS showed recoveries of the total amounts of codeine in tampering products of 81–84% from Product 1 (codeine/acetylsalicylic acid); 61–67% from Product 2 (codeine/ibuprofen); and 42–71% from Product 3 (codeine/paracetamol). Recoveries of non-opioid analgesics ranged between: 57–73% acetylsalicylic acid; 5.5–8.5% ibuprofen, and 5.0–9.2% paracetamol.
Conclusion
With the tampering procedures used, high amounts of codeine were separated from the accompanying analgesics in some, but not in all of the codeine containing formulations. Evidence-based medicine regulation, treatment for opioid dependence, and information to minimise risks to the public are essential components of an effective public health strategy to address the harms of tampering and misuse.
Funding
Marie Pedersen and Jensine Heiberg Foundation.