22.12.2017 | Review Article | Ausgabe 4/2018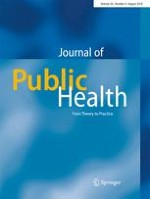 How should we change the culture of health? A note on the margin of an outstanding debate
Zeitschrift:
Autor:

József Vitrai
Wichtige Hinweise
The original version of this article was revised: Due to the existence of another journal with the same name, the Publisher has added a subtitle, "From Theory to Practice." Effective as of January 2018, the new title of this Journal is Journal of Public Health: From Theory to Practice.
Abstract
Aim
In 2014, Sally Davis, England's Chief Medical Officer, proposed a paradigm shift in public health—the 5th Wave—which should focus on the culture of health. Her paper was meant to spark a debate, but this has been largely absent until now. This article argues why the concept of the culture of health needs to be incorporated into the theory of public health and shows a possible direction for applying it in practice.
Subjects and methods
Review of theoretical approaches and knowledge synthesis.
Results
Applying the culture of the health approach to change health behavior requires taking several different strands of thought into account. Any proposed effective intervention should be based on a framework including the 'behavioral system,' ecosocial theory, complex systems science, and school health promotion approaches. Changing culture is impeded by its complexity, but to solve this wicked problem, the focus should likely be on health promotion in schools.
Conclusion
To make interventions more effective, it is necessary for public health professionals to have an extensive debate on the interpretations of the role of the culture of health as highlighted in this article.