22.09.2016 | Original Article | Ausgabe 11/2016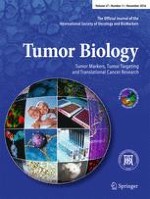 HOX

genes: potential candidates for the progression of laryngeal squamous cell carcinoma
Zeitschrift:
Autoren:

Rafaela de Barros e Lima Bueno, Anelisa Ramão, Daniel Guariz Pinheiro, Cleidson Padua Alves, Vinicius Kannen, Achim A Jungbluth, Luiza Ferreira de Araújo, Bruna Rodrigues Muys, Aline Simoneti Fonseca, Jessica Rodrigues Plaça, Rodrigo Alexandre Panepucci, Luciano Neder, Fabiano P Saggioro, Rui Celso M. Mamede, David Livingstone Alves Figueiredo, Wilson Araújo Silva Jr
Wichtige Hinweise
Electronic supplementary material
The online version of this article (doi:
10.​1007/​s13277-016-5356-8
) contains supplementary material, which is available to authorized users.
Rafaela de Barros e Lima Bueno and Anelisa Ramão contributed equally to this work.
Abstract
Laryngeal squamous cell carcinoma (LSCC) is a very aggressive cancer, considered to be a subtype of the head and neck squamous cell carcinoma (HNSCC). Despite significant advances in the understanding and treatment of cancer, prognosis of patients with LSCC has not improved recently. In the present study, we sought to understand better the genetic mechanisms underlying LSCC development. Thirty-two tumor samples were collected from patients undergoing surgical resection of LSCC. The samples were submitted to whole-genome cDNA microarray analysis aiming to identify genetic targets in LSCC. We also employed bioinformatic approaches to expand our findings using the TCGA database and further performed functional assays, using human HNSCC cell lines, to evaluate viability, cell proliferation, and cell migration after silencing of selected genes. Eight members of the homeobox gene family (HOX) were identified to be overexpressed in LSCC samples when compared to normal larynx tissue. Quantitative RT-PCR analysis validated the overexpression of HOX gene family members in LSCC. Receiver operating characteristic (ROC) statistical method curve showed that the expression level of seven members of HOX gene family can distinguish tumor from nontumor tissue. Correlation analysis of clinical and gene expression data revealed that HOXC8 and HOXD11 genes were associated with the differentiation degree of tumors and regional lymph node metastases, respectively. Additionally, siRNA assays confirmed that HOXC8, HOXD10, and HOXD11 genes might be critical for cell colony proliferation and cell migration. According to our findings, several members of the HOX genes were overexpressed in LSCC samples and seem to be required in biological processes involved in tumor development. This suggests that HOX genes might play a critical role in the physiopathology of LSCC tumors.