01.12.2017 | Research | Ausgabe 1/2017 Open Access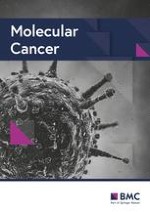 HSP90 promotes cell glycolysis, proliferation and inhibits apoptosis by regulating PKM2 abundance via Thr-328 phosphorylation in hepatocellular carcinoma
Zeitschrift:
Autoren:

Qiuran Xu, Jianfeng Tu, Changwei Dou, Jun Zhang, Liu Yang, Xin Liu, Kefeng Lei, Zhikui Liu, Yufeng Wang, Lijie Li, Hangxing Bao, Jiahui Wang, Kangsheng Tu
Wichtige Hinweise
Electronic supplementary material
Abstract
Background
Heat shock protein 90 (HSP90) functions as a well-known onco-protein to regulate protein conformation, stability and degradation. Pyruvate kinase M2 (PKM2), a critical regulator of the metabolism, growth and metastasis of cancer cells, has been confirmed to be overexpressed in various human cancer including hepatocellular carcinoma (HCC). However, the molecular mechanisms underlying the oncogenic functions of HSP90 and PKM2 overexpression in HCC remain unknown.
Methods
The expression of HSP90 and PKM2 in HCC specimens and cells were detected by immunoblotting and immunostaining. The interaction between HSP90 and PKM2 was confirmed by tandem affinity purification, co-immunoprecipitation and Glutathione S transferase (GST)-pulldown assay.
Results
In this study, we found that HSP90 could bind to PKM2 and subsequently increased PKM2 abundance in HCC cells. Immunohistochemistry (IHC) staining showed that HSP90 level was positively correlated with PKM2 level in HCC tissues. Mechanistically, HSP90 was found to increase the phosphorylation of PKM2 at Thr-328. Protein kinase glycogen synthase kinase-3β (GSK-3β) formed a protein complex with HSP90 and PKM2, and directly mediated Thr-328 phosphorylation of PKM2 induced by HSP90. Thr-328 phosphorylation was critical for maintaining PKM2 stability and its biological functions in regulating glycolysis, mitochondria respiration, proliferation and apoptosis. Functionally, we found that HSP90 promoted the glycolysis and proliferation and inhibited apoptosis of HCC cells in a PKM2 dependent manner. In vivo experiments disclosed that PKM2 was required for the promoting effects of HSP90 on the growth of HCC cells in mice. Furthermore, we demonstrated that positive expression of HSP90 and PKM2 was correlated with poor clinicopathological features including high alpha fetoprotein (AFP) level, large tumor size, portal vein tumor thrombus (PVTT) and advanced tumor-node-metastasis (TNM) stage. Furthermore, we demonstrated that positive expression of HSP90 and PKM2, and a combination of these proteins could strongly predict the poor prognosis of HCC patients.
Conclusions
We suggest that HSP90 potentiates the glycolysis and proliferation, reduces the apoptosis and thus enhances the growth of HCC cells through PKM2.