01.12.2015 | Research | Ausgabe 1/2015 Open Access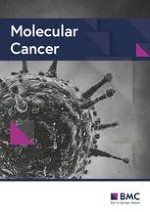 Human anti-CAIX antibodies mediate immune cell inhibition of renal cell carcinoma
in vitro

and in a humanized mouse model

in vivo
Zeitschrift:
Autoren:

De-Kuan Chang, Raymond J. Moniz, Zhongyao Xu, Jiusong Sun, Sabina Signoretti, Quan Zhu, Wayne A. Marasco
Wichtige Hinweise
Electronic supplementary material
The online version of this article (doi:
10.​1186/​s12943-015-0384-3
) contains supplementary material, which is available to authorized users.
De-Kuan Chang and Raymond J. Moniz contributed equally to this work.
Competing interests
The authors declare that they have no competing interests.
Authors' contributions
WAM, DKC, and RJM. contributed to the design of the experiments and drafted the manuscript. DKC. carried out experiments and analyzed data. RJM performed the cytotoxicity, animal study, and FACS staining and analyzed data. ZX performed the cytotoxicity, transwell, and migration studies. JS participated in animal study. SS conceived the study and participated histology staining. QZ conceived the study and helped draft the manuscript. All authors read and approved the final manuscript.
Funding
National Foundation for Cancer Research.
Abstract
Background
Carbonic anhydrase (CA) IX is a surface-expressed protein that is upregulated by the hypoxia inducible factor (HIF) and represents a prototypic tumor-associated antigen that is overexpressed on renal cell carcinoma (RCC). Therapeutic approaches targeting CAIX have focused on the development of CAIX inhibitors and specific immunotherapies including monoclonal antibodies (mAbs). However, current
in vivo
mouse models used to characterize the anti-tumor properties of fully human anti-CAIX mAbs have significant limitations since the role of human effector cells in tumor cell killing
in vivo
is not directly evaluated.
Methods
The role of human anti-CAIX mAbs on CAIX
+
RCC tumor cell killing by immunocytes or complement was tested
in vitro
by antibody-dependent cell-mediated cytotoxicity (ADCC), complement-dependent cytotoxicity (CDC) and antibody-dependent cellular phagocytosis (ADCP) as well as on CAIX
+
RCC cellular motility, wound healing, migration and proliferation. The
in vivo
therapeutic activity mediated by anti-CAIX mAbs was determined by using a novel orthotopic RCC xenograft humanized animal model and analyzed by histology and FACS staining.
Results
Our studies demonstrate the capacity of human anti-CAIX mAbs that inhibit CA enzymatic activity to result in immune-mediated killing of RCC, including nature killer (NK) cell-mediated ADCC, CDC, and macrophage-mediated ADCP. The killing activity correlated positively with the level of CAIX expression on RCC tumor cell lines. In addition, Fc engineering of anti-CAIX mAbs was shown to enhance the ADCC activity against RCC. We also demonstrate that these anti-CAIX mAbs inhibit migration of RCC cells
in vitro
. Finally, through the implementation of a novel orthotopic RCC model utilizing allogeneic human peripheral blood mononuclear cells in NOD/SCID/IL2Rγ
−/−
mice, we show that anti-CAIX mAbs are capable of mediating human immune response
in vivo
including tumor infiltration of NK cells and activation of T cells, resulting in inhibition of CAIX
+
tumor growth.
Conclusions
Our findings demonstrate that these novel human anti-CAIX mAbs have therapeutic potential in the unmet medical need of targeted killing of HIF-driven CAIX
+
RCC. The orthotopic tumor xenografted humanized mouse provides an improved model to evaluate the
in vivo
anti-tumor capabilities of fully human mAbs for RCC therapy.