01.12.2017 | Original investigation | Ausgabe 1/2017 Open Access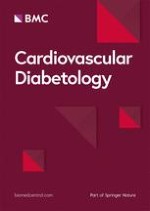 Human epicardial adipose tissue-derived and circulating secreted frizzled-related protein 4 (SFRP4) levels are increased in patients with coronary artery disease
Zeitschrift:
Autoren:

Qingwei Ji, Jianwei Zhang, Yu Du, Enjun Zhu, Zhijian Wang, Bin Que, Huangtai Miao, Shutian Shi, Xiuchuan Qin, Yingxin Zhao, Yujie Zhou, Fangjun Huang, Shaoping Nie
Wichtige Hinweise
Qingwei Ji, Jianwei Zhang and Yu Du contributed equally to this work
Abstract
Background
Previous studies have demonstrated that secreted frizzled-related protein 4 (SFRP4) is associated with impaired glucose and triglyceride metabolism in patients with stable coronary artery disease. In the present study, we investigated human epicardial adipose tissue (EAT)-derived and circulating SFRP4 levels in patients with coronary artery disease (CAD).
Methods
Plasma samples and adipose biopsies from EAT and subcutaneous adipose tissue (SAT) were collected from patients with CAD (n = 40) and without CAD (non-CAD, n = 30) during elective cardiac surgery. The presence of CAD was identified by coronary angiography. SFRP4 mRNA and protein expression levels in adipose tissue were detected by quantitative real-time PCR and immunohistochemistry, respectively. Plasma SFRP4 concentrations were measured by an enzyme-linked immunosorbent assay (ELISA). Correlation analysis and multivariate linear regression analysis were used to determine the association of SFRP4 expression with atherosclerosis as well as clinical risk factors.
Results
SFRP4 mRNA and protein expression levels were significantly lower in EAT than in paired SAT in patients with and without CAD (all
P
< 0.05). Compared to non-CAD patients, CAD patients had higher SFRP4 expression levels in EAT (both mRNA and protein levels) and in plasma. Multivariate linear regression analysis showed that CAD was an independent predictor of SFRP4 expression levels in EAT (beta = 0.442, 95% CI 0.030–0.814;
P
= 0.036) and in plasma (beta = 0.300, 95% CI 0.056–0.545;
P
= 0.017). SAT-derived SFRP4 mRNA levels were independently associated with fasting insulin levels (beta = 0.382, 95% CI 0.008–0.756;
P
= 0.045). In addition, plasma SFRP4 levels were positively correlated with BMI (r = 0.259,
P
= 0.030), fasting insulin levels (r = 0.306,
P
= 0.010) and homeostasis model assessment of insulin resistance (HOMA-IR) values (r = 0.331,
P
= 0.005).
Conclusions
EAT-derived and circulating SFRP4 expression levels were increased in patients with CAD. EAT SFRP4 mRNA levels and plasma SFRP4 concentrations were independently associated with the presence of CAD.