05.10.2018 | Original Article | Ausgabe 1/2019 Open Access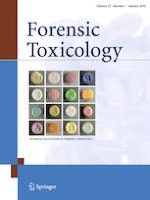 Human phase I metabolism of the novel synthetic cannabinoid 5F-CUMYL-PEGACLONE
Zeitschrift:
Autoren:

Lukas Mogler, Sebastian Halter, Maurice Wilde, Florian Franz, Volker Auwärter
Wichtige Hinweise
Electronic supplementary material
Abstract
Purpose
5F-CUMYL-PEGACLONE is a recently emerged
γ
-carbolinone derived synthetic cannabinoid. The present study aimed to identify phase I metabolites to reliably prove consumption of the substance by urine analysis and to differentiate from the uptake of the non-fluorinated analog CUMYL-PEGACLONE.
Methods
For metabolite characterization, phase I metabolites were analyzed by liquid chromatography–high resolution mass spectrometry after incubation with pooled human liver microsomes. Reliability of the biomarkers was evaluated by analysis of human urine samples (
n 
= 20) by liquid chromatography–triple quadrupole tandem mass spectrometry. Sample preparation included
β
-glucuronidase treatment followed by liquid-liquid extraction.
Results
In total, 15 metabolites were detected in vivo and characterized. Metabolic reactions were primarily observed at the
γ
-carbolinone core and the 5-fluoropentyl chain, and included
N
-dealkylation, hydroxylation, hydrolytic defluorination, formation of a dihydrodiol, oxidation to the pentanoic acid metabolite and formation of the propionic acid metabolite. Six of these metabolites were identical with phase I metabolites of CUMYL-PEGACLONE, which must be considered for interpretation of analytical findings in urine samples.
Conclusions
5F-CUMYL-PEGACLONE was subject to extensive metabolism in humans. The propionic acid metabolite was the most abundant metabolite in all urine samples and should be targeted when maximum sensitivity is needed (e.g., drug abstinence control). However, this metabolite also occurs in the biotransformation of the non-fluorinated analog and is, therefore, not a compound-specific marker. For differentiation, a metabolite hydroxylated at the
γ
-carbolinone core showed to be the most reliable marker and should be used as an additional target analyte.