01.06.2014 | Original Paper | Ausgabe 6/2014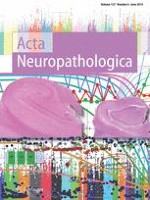 Human pontine glioma cells can induce murine tumors
Zeitschrift:
Autoren:

Viola Caretti, A. Charlotte P. Sewing, Tonny Lagerweij, Pepijn Schellen, Marianna Bugiani, Marc H. A. Jansen, Dannis G. van Vuurden, Anna C. Navis, Ilona Horsman, W. Peter Vandertop, David P. Noske, Pieter Wesseling, Gertjan J. L. Kaspers, Javad Nazarian, Hannes Vogel, Esther Hulleman, Michelle Monje, Thomas Wurdinger
Wichtige Hinweise
Electronic supplementary material
The online version of this article (doi:
10.​1007/​s00401-014-1272-4
) contains supplementary material, which is available to authorized users.
E. Hulleman, M. Monje and T. Wurdinger contributed equally.
Abstract
Diffuse intrinsic pontine glioma (DIPG), with a median survival of only 9 months, is the leading cause of pediatric brain cancer mortality. Dearth of tumor tissue for research has limited progress in this disease until recently. New experimental models for DIPG research are now emerging. To develop preclinical models of DIPG, two different methods were adopted: cells obtained at autopsy (1) were directly xenografted orthotopically into the pons of immunodeficient mice without an intervening cell culture step or (2) were first cultured in vitro and, upon successful expansion, injected in vivo. Both strategies resulted in pontine tumors histopathologically similar to the original human DIPG tumors. However, following the direct transplantation method all tumors proved to be composed of murine and not of human cells. This is in contrast to the indirect method that included initial in vitro culture and resulted in xenografts comprising human cells. Of note, direct injection of cells obtained postmortem from the pons and frontal lobe of human brains not affected by cancer did not give rise to neoplasms. The murine pontine tumors exhibited an immunophenotype similar to human DIPG, but were also positive for microglia/macrophage markers, such as CD45, CD68 and CD11b. Serial orthotopic injection of these murine cells results in lethal tumors in recipient mice. Direct injection of human DIPG cells in vivo can give rise to malignant murine tumors. This represents an important caveat for xenotransplantation models of DIPG. In contrast, an initial in vitro culture step can allow establishment of human orthotopic xenografts. The mechanism underlying this phenomenon observed with direct xenotransplantation remains an open question.