Erschienen in: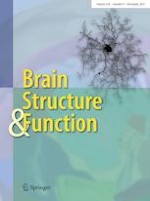 Open Access 04.08.2021 | Original Article
Human primary visual cortex shows larger population receptive fields for binocular disparity-defined stimuli
Erschienen in: Brain Structure and Function | Ausgabe 9/2021
Abstract
The visual perception of 3D depth is underpinned by the brain's ability to combine signals from the left and right eyes to produce a neural representation of binocular disparity for perception and behaviour. Electrophysiological studies of binocular disparity over the past 2 decades have investigated the computational role of neurons in area V1 for binocular combination, while more recent neuroimaging investigations have focused on identifying specific roles for different extrastriate visual areas in depth perception. Here we investigate the population receptive field properties of neural responses to binocular information in striate and extrastriate cortical visual areas using ultra-high field fMRI. We measured BOLD fMRI responses while participants viewed retinotopic mapping stimuli defined by different visual properties: contrast, luminance, motion, correlated and anti-correlated stereoscopic disparity. By fitting each condition with a population receptive field model, we compared quantitatively the size of the population receptive field for disparity-specific stimulation. We found larger population receptive fields for disparity compared with contrast and luminance in area V1, the first stage of binocular combination, which likely reflects the binocular integration zone, an interpretation supported by modelling of the binocular energy model. A similar pattern was found in region LOC, where it may reflect the role of disparity as a cue for 3D shape. These findings provide insight into the binocular receptive field properties underlying processing for human stereoscopic vision.
Publisher's Note
Springer Nature remains neutral with regard to jurisdictional claims in published maps and institutional affiliations.
Introduction
Materials and methods
Results
Discussion
This study provides estimates of pRFs for binocular disparity across human cortical visual areas and compares them to estimates of pRF size for non-disparity-defined stimuli. In particular, the derived pRFs obtained under correlated disparity stimulation are proposed to reflect the binocular integration zones of a given cortical site at the population level. Stimuli not defined by disparity, such as the luminance edges of the chequerboard, elicit responses across a wide variety of classical receptive fields, including both monocular and binocular RFs. By comparison, the stereoscopic RDS stimuli that define the wedge or ring aperture used to map the pRFs here only deliver aperture-related information encoded in binocular disparity. Therefore, where pRF estimates diverge between the disparity condition and pRFs estimated under luminance or contrast edges, differences should reflect the role of disparity-specific processing.
Our findings are consistent with previous fMRI evidence, which report widespread binocular disparity processing across visual cortex (Backus et al.
2001
; Bridge and Parker
2007
; Preston et al.
2008
; Minini et al.
2010
; Ip et al.
2014
; Goncalves et al.
2015
; Ban and Welchman
2015
), and a specific role for area V1, as the site of binocular integration (Barendregt et al.
2015
). An important point of interpretation for our study is that, unlike studies such as Barendregt et al. (
2015
), who compared binocular with monocular stimulation, the current study used binocular viewing in all tested conditions. Therefore, the stereoscopic stimuli used here probe the neuronal mechanisms that are responsible for the extraction of depth from binocular disparity. Second, our study makes direct comparisons of pRF size estimated in stereoscopic viewing conditions for both disparity- and non-disparity-defined stimuli, whereas the paper by Barendregt et al. (
2015
) compared overall quality of fits of the pRF model to the monocular and binocular stimulation conditions.
Estimates of the binocular integration zone in area V1
Our results demonstrate a discrepancy between pRFs estimated from disparity and non-disparity information in area V1, with larger receptive fields for disparity in agreement with the electrophysiological literature (Nienborg et al.
2004
). This is consistent with the proposal that the binocular combination in disparity-specific neurons of V1 is a fundamental limiting stage in determining the size of the pRF (Cumming and Parker
1999
,
2000
; Parker and Cumming
2001
). The lack of discrepancy of pRF size in areas V2 and V3 suggests little further combination of the retinal inputs in early extrastriate cortex, at least at levels detectable by population-level methods. In this regard, our findings are similar to those of Barendregt et al. (
2015
).
The relationship between the sizes of the non-disparity receptive field and the binocular integration zone in V1 is described by the general form of the binocular energy model (Banks et al.
2004
; Nienborg et al.
2004
). In this model, the ability of disparity-tuned V1 cells to detect changes in binocular disparity is limited by the width of the correlation window over which monocular signals are compared. If the window is too large, binocular matches become ambiguous; if the window is too small, the binocular image will not contain enough information to compute disparity (Banks et al.
2004
; Nienborg et al.
2004
). Notably, this constraint is independent of depth variation within the window, or limits imposed by optical effects, retinal sampling or stimulus construction (Tyler
1974
; Schlesinger and Yeshurun
1998
; Banks et al.
2004
). As the correlation window is defined by the size and location of the paired monocular receptive fields, the latter impose the minimum area over which disparity information may be integrated. Indeed, the disparity energy model predicts a binocular integration zone whose effective receptive field is the half-squared product of the monocular receptive fields over which binocular cross-correlation takes place (Banks et al.
2004
; Nienborg et al.
2004
,
2005
). This prediction is borne out in electrophysiological studies; for example, Nienborg et al. (
2004
) showed that for disparity-tuned V1 neurons, the relationship between monocular receptive field size and the width of the correlation window corresponds to a half-squaring output nonlinearity and is approximately linear across eccentricities. Extrapolating this idea to neuronal population level, the binocular integration zone is predicted to display a half-square nonlinearity in relation to other conditions, equivalent to a positive slope in the pRF size ratios between disparity and control conditions in Fig.
6
B.
One potential reason for a difference in pRF size between conditions could be the relative magnitude of the BOLD signal, as increased amplitude leads to greater spread across the cortex. We do not believe this to be an issue since the pRF mapping technique uses a 'winner takes all' model so only the highest amplitude signal is considered for a voxel. The size of the BOLD response does, however, increase the signal: noise ratio leading to a better fitting, a larger number of informative voxels and more reliable maps.
Comparison of binocular energy model prediction and the empirical binocular integration zone in V1
An explicit, but restricted implementation of the binocular energy model allowed us to assess the effects of monocular receptive field parameters on the conjugate signal of a model V1 cell population. By manipulating the model monocular receptive field size and fitting the mean population signal with a pRF model, we confirmed that pRF size for disparity is a linear function of monocular receptive field size. We also confirmed that disparity-defined stimuli resulted in larger pRFs compared to both contrast- and luminance-defined stimuli, reflecting the wider binocular integration zone necessary for integrating horizontal discrepancies in the monocular inputs, absent in the case of contrast information. Deriving the pRF from a population of model cells with different receptive field sizes, SF and disparity tuning produced a relationship between responses to disparity-defined and contrast-defined stimuli that was broadly comparable to the empirically estimated pRF sizes from BOLD data in area V1.
Nonetheless, there were several notable discrepancies between the empirical data and modelling results. Firstly, when comparing the pRF size for correlated disparity with the chequerboard, in the model the difference between the two conditions appears to increase with receptive field size, whereas the empirical data appears to converge. Secondly, the model pRF sizes for contrast and luminance stimuli show almost exactly the same pattern. In comparison, the empirical data for these two conditions varied considerably, with smaller pRFs at low eccentricities and larger pRFs at high eccentricities for the chequerboard.
The use of dot stimuli rather than the chequerboards may contribute to both of these differences. Even at the lowest eccentricity value the pRF sizes for the dot-defined stimuli are around 2°, compared to 1° for the chequerboard. Since dot diameter was 0.3°, determining the location of the stimulus boundary between the changing wedge or ring region and the background is likely to require greater spatial averaging compared to the sharp boundaries of the chequerboard. Indeed, for both the luminance and motion stimuli, the difference in pRF size compared to correlated disparity increases with eccentricity as predicted by the model. To determine whether this is the case it would be necessary to scale the size of the dots with eccentricity. In general, the responses to the dot stimuli appear to diverge more from the modelling than the chequerboard; modelling predicts that chequerboard and luminance stimuli should provide similar pRF sizes across eccentricity. However, this is not the case for the fMRI data. Very few previous studies have used dot-defined stimuli for pRF mapping, but a previous study showed larger pRF for a global motion defined stimulus compared to a chequerboard in V1 (Hughes et al.
2019
), although the data were not broken down by eccentricity.
The third major difference between the fMRI data and modelling relates to the difference in response to correlated and anti-correlated disparities, which is discussed in detail below.
Considering how the modelling could better reflect fMRI data, first, it would be worth including additional nonlinearities that can account for the known reduction in neuronal response to anti-correlated disparity. Second, as stated earlier, the current implementation of the energy model uses populations of units, all having the same disparity tuning, which imposes limits the size of the pRF for the disparity-defined stimulus. If more units tuned to different disparities were incorporated then the estimated pRF size will tend to increase but this requires considerably more modelling beyond the scope of the current study.
Overall, as would be predicted, the pRF size is much more consistent for the high contrast, compelling chequerboard stimulus compared to the dot-defined luminance and disparity stimuli. Changing the salience of the stimuli may additionally change this pattern.
pRF size is comparable for disparity and non-disparity input defined by random dots in dorsal visual areas
Dorsal regions V3A/B, V5/MT+ and V7 showed no significant difference in pRF size for disparity when compared to the dot-defined luminance and motion conditions. There was, however, a reduction in pRF size compared to the chequerboard stimulus. This is consistent with previous work indicating that pRF mapping with isolated dot-defined bar stimuli resulted in larger pRF sizes compared to stimuli presented with a contrasting surround, either opposing motion or motion noise (Hughes et al.
2019
). Thus, given the lack of difference between disparity-defined stimulus and other dot-defined stimuli, our finding is consistent with the conclusion from that paper that the pRF size in dorsal regions may depend on stimulus salience. While this result is also consistent with significant involvement of dorsal visual areas in disparity processing, most notably V3A/B (Poggio et al.
1988
; Adams and Zeki
2001
; Neri et al.
2004
; Minini et al.
2010
; Ban and Welchman
2015
), it does not indicate a special role for integration of disparity information across space.
Specialised processing for binocular disparity in lateral occipital cortex
In a similar fashion to the results observed in V1, we detected a pattern of larger pRFs for disparity compared to other conditions in area LOC, typically considered a later 'upstream' stage in visual cortical hierarchy processing (Grill-Spector et al.
2001
). LOC is involved in the processing of 3D shape (Kourtzi and Kanwisher
2001
; Kourtzi et al.
2003
; Weigelt et al.
2007
; Vernon et al.
2016
), motion (Moutoussis et al.
2005
; Krekelberg et al.
2005
) and binocular depth (Chandrasekaran et al.
2006
; Preston et al.
2008
; Ban et al.
2012
). While responsive to binocular disparity stimulation in isolation (Ip et al.
2014
), LOC has been particularly associated with view-invariant representations of 3D shape which incorporate information about binocular depth (Welchman et al.
2005
; Preston et al.
2009
). The discrepancy between pRF sizes for disparity and other conditions may reflect the computational role for disparity information in LOC, not as the input to a binocular integration zone to generate a fused cyclopean representation, but instead as one component drawn upon to form view-invariant object representations. Preston et al. (
2008
) suggest that LOC represents depth position in a categorical manner, that is, as a coarse indicator of near vs. far position. As larger binocular disparities require larger receptive fields to capture the relevant retinal matches, it follows that coarseness in disparity tuning in LOC may be matched with a coarse spatial tuning in its pRFs. While the relationship between disparity tuning and receptive field size remains largely unknown in the human, in the macaque, electrophysiological studies have reported a multiplicative relationship between receptive field size and preferred disparity for V1 neurons (Prince et al.
2002b
; Nienborg et al.
2004
). Therefore, a coarse representation of both spatial and disparity tuning in LOC would be consistent with the tuning properties of disparity-selective cells.
An additional consideration is the source of disparity modulation. The dynamic random dot disparity stimulus presented here contains two sources of disparity information; absolute disparity within the aperture field, and relative disparity at the edge between the aperture and the zero-disparity background. Unlike area V1, which is exclusively selective to absolute disparity (Cumming and Parker
1999
), either component may drive responses in LOC. While LOC responses can be attributed to relative disparity (Welchman et al.
2005
; Chandrasekaran et al.
2006
; Preston et al.
2008
; Read et al.
2010
; Bridge et al.
2013
), a direct coding of absolute disparity is possible and consistent with the similarity in tuning properties with area V1.
The role of interocular correlation in perception
Relating disparity pRFs to perception
The aim of the current study was to determine how pRFs defined by changing disparity-defined depth compared to those defined with other stimulus types. With the stimulus configurations used here, all pRFs were defined in the two-dimensional x–y plane. The neural signal was averaged over both near and far disparities, analogous to averaging across different directions of motion for moving dots. Thus, the pRFs estimated did not contain any information about stimulus depth, and could not be used to investigate tuning for disparity. An immediate extension of this work which would allow the estimation of pRF tunings for disparity-defined depth, would be to change the position in depth of the stimulus along the z-dimension over time, to model the preferred depth tuning properties.
fMRI estimates of binocular pRFs are in agreement with electrophysiological priors
This study presents the novel estimation of binocular receptive fields characteristics across human visual cortical areas, highlighting the discrepancies between disparity and non-disparity driven estimates of population-level receptive fields. While the estimates of pRF size for non-disparity modulated stimuli presented here are in broad agreement with previous fMRI studies (Wandell and Winawer
2015
), no such baseline is available for disparity-defined pRFs. Furthermore, although direct comparisons to the electrophysiological literature may be informative, it is important to note the abstraction of these metrics from the behaviour of single disparity-tuned cells. First, BOLD fMRI signals are measured from imaging voxels that contain many cells, both tuned and not tuned to disparity, which contribute to the observed signal. Second, imaged voxels encompass a large number of disparity-sensitive neurons that contain a variable distribution of spatial and depth preferences that are aggregated and averaged in the observed signal. Therefore, the BOLD signal reflects a population preference, which nevertheless reveals systematic variation in pRF size for disparity both within and across cortical visual regions.
Relating these findings to electrophysiology, we highlight two points. First, pRF size for disparity increased with eccentricity in all visual areas tested. Second, the scaling of pRF size with eccentricity under disparity stimulation is consistent with the view of a binocular integration zone that obeys local physiological constraints imposed by its component receptive fields, imposing a limit on resolvable disparity (Banks et al.
2004
; Nienborg et al.
2004
). Together, these observations reinforce the hypothesis that fMRI estimates of binocular receptive fields reflect the same mechanisms as those described in electrophysiological studies of disparity processing in animal models and provide characterisation of the binocular integration zone in humans.
Declarations
Conflict of interest
The authors declare no competing financial interests.
Ethical approval
This study received ethical approval from the University of Oxford Central University Research Ethics Committee (MS-IDREC-C1-2015-040) and was conducted in accordance with the Declaration of Helsinki.
Consent to participate
Informed consent was obtained from all individual participants included in the study.
Consent for publication
The authors affirm that human research participants provided informed consent for publication of results based on data collected in this study.
Open Access
This article is licensed under a Creative Commons Attribution 4.0 International License, which permits use, sharing, adaptation, distribution and reproduction in any medium or format, as long as you give appropriate credit to the original author(s) and the source, provide a link to the Creative Commons licence, and indicate if changes were made. The images or other third party material in this article are included in the article's Creative Commons licence, unless indicated otherwise in a credit line to the material. If material is not included in the article's Creative Commons licence and your intended use is not permitted by statutory regulation or exceeds the permitted use, you will need to obtain permission directly from the copyright holder. To view a copy of this licence, visit
http://​creativecommons.​org/​licenses/​by/​4.​0/​
.
Publisher's Note
Springer Nature remains neutral with regard to jurisdictional claims in published maps and institutional affiliations.