01.12.2017 | Research | Ausgabe 1/2017 Open Access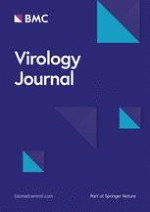 Human rotavirus strains circulating in Venezuela after vaccine introduction: predominance of G2P[4] and reemergence of G1P[8]
Zeitschrift:
Autoren:

Esmeralda Vizzi, Oscar A. Piñeros, M. Daniela Oropeza, Laura Naranjo, José A. Suárez, Rixio Fernández, José L. Zambrano, Argelia Celis, Ferdinando Liprandi
Abstract
Background
Rotavirus (RV) is the most common cause of severe childhood diarrhea worldwide. Despite Venezuela was among the first developing countries to introduce RV vaccines into their national immunization schedules, RV is still contributing to the burden of diarrhea. Concerns exist about the selective pressure that RV vaccines could exert on the predominant types and/or emergence of new strains.
Results
To assess the impact of RV vaccines on the genotype distribution 1 year after the vaccination was implemented, a total of 912 fecal specimens, collected from children with acute gastroenteritis in Caracas from February 2007 to April 2008, were screened, of which 169 (18.5%) were confirmed to be RV positive by PAGE. Rotavirus-associated diarrhea occurred all year-round, although prevailed during the coolest and driest months among unvaccinated children under 24 months old. Of 165 RV strains genotyped for G (VP7) and P (VP4) by seminested multiplex RT-PCR, 77 (46.7%) were G2P[4] and 63 (38.2%) G1P[8]. G9P[8], G3P[8] and G2P[6] were found in a lower proportion (7.3%). Remarkable was also the detection of <5% of uncommon combinations (G8P[14], G8P[4], G1P[4] and G4P[4]) and 3.6% of mixed infections. A changing pattern of G/P-type distribution was observed during the season studied, with complete predominance of G2P[4] from February to June 2007 followed by its gradual decline and the reemergence of G1P[8], predominant since January 2008. Phylogenetic analysis of VP7 and VP4 genes revealed a high similarity among G2P[4] and global strains belonging to G2-II and P[4]-V lineages. The amino acid substitution 96D → N, related with reemergence of the G2 genotype elsewhere, was observed. The G1P[8] strains from Caracas were grouped into the lineages G1-I and P[8]-III, along with geographically remote G1P[8] rotaviruses, but they were rather distant from Rotarix® vaccine and pre-vaccine strains. Unique amino acid substitutions observed on neutralization domains of the VP7 sequence from Venezuelan post-vaccine G1P[8] could have conditioned their re-emergence and a more efficient dissemination into susceptible population.
Conclusions
The results suggest that natural fluctuations of genotypes in combination with forces driving the genetic evolution could determine the spread of novel strains, whose long-term effect on the efficacy of available vaccines should be determined.