01.12.2017 | Original investigation | Ausgabe 1/2017 Open Access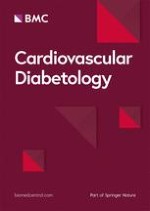 Human serum RNase-L level is inversely associated with metabolic syndrome and age
Zeitschrift:
Autoren:

Yi-Ting Wang, Ping-Huei Tseng, Chi-Ling Chen, Der-Sheng Han, Yu-Chiao Chi, Fen-Yu Tseng, Wei-Shiung Yang
Abstract
Background
Ribonuclease-L (RNase-L) was known to be a ubiquitous enzyme involved in several cellular functions, especially innate immunity. It was recently shown to participate in adipogenesis in rodents. Here, we developed a method to measure serum levels of RNase-L and analyzed the relationship between RNase-L and metabolic syndrome (MetS).
Methods
A total of 396 subjects were recruited from a health check-up program. An in-house RNase-L immunoassay was developed. The serum RNase-L levels of these subjects were measured, and the association of MetS-related factors with RNase-L levels was assessed.
Results
The mean serum level of RNase-L of the subjects with MetS were lower than those without (16.5 ± 6.4 vs. 18.4 ± 8.0 μg/ml,
P
= 0.018). The subjects with central obesity, elevated blood pressure, or impaired fasting glucose also had lower serum RNase-L levels in comparison to those without. In multivariate linear regression analysis, diastolic blood pressure (β = −0.129,
P
= 0.024) and high-density lipoprotein cholesterol (HDL-C) (β = 0.127,
P
= 0.036) were related to serum RNase-L. For every 5 μg/ml increase in serum RNase-L levels, it is associated with a reduced risk of MetS (OR 0.83, 95% CI 0.71–0.98,
P
= 0.028), central obesity (OR 0.82, 95% CI 0.71–0.94,
P
= 0.005), or low HDL-C (OR 0.86, 95% CI 0.74–1.00,
P
= 0.042). Moreover, age is inversely related to serum RNase-L levels in various analyses.
Conclusions
The serum RNase-L levels were inversely associated with MetS, unfavorable metabolic profiles, and age.