12.10.2020 | Humane Papillomaviren | Leitthema | Ausgabe 12/2020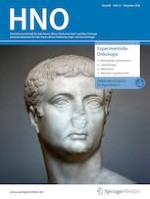 Mutationssignaturen beim Kopf- und Hals-Tumor
Pathogenese und Potenzial für die Therapie
Zeitschrift:
Autoren:

M. Plath, J. Hess, PD. Dr. K. Zaoui
Zusammenfassung
Hintergrund
Die Pathogenese beim Plattenepithelkarzinom der Kopf- und Halsregion (HNSCC, "head and neck squamous cell carcinoma") ist ein komplexer Mehrstufenprozess und resultiert aus der Interaktion von exogenen und endogenen zellulären Prozessen. Jeder Prozess hinterlässt ein charakteristisches Muster an Mutationen auf dem Tumorgenom, eine sog. Tumorsignatur.
Studienlage
Gegenstand aktueller Studien ist es, spezifische Tumorsignaturen, die während der HNSCC-Pathogenese wirksam sind, zu finden und die prognostische Relevanz zu evaluieren. Mit Analysen von genomischen Sequenzierungsdaten durch The Cancer Genome Atlas (TCGA) wurden die häufigsten Mutationssignaturen beim HNSCC entschlüsselt, wobei die Signaturen 1, 2, 4, 5, 7 und 13 als hauptsächliche Akteure identifiziert werden konnten. Die Signatur 16 wurde erstmalig bei humane Papillomaviren (HPV-)negativen oralen und oropharyngealen Plattenepithelkarzinomen entdeckt. In vielen Studien wurde eine Assoziation der Signatur 16 mit dem Alkohol- und Tabakkonsum gezeigt sowie ein negativer Einfluss auf die Prognose der Patienten festgestellt.