01.12.2015 | Research | Ausgabe 1/2015 Open Access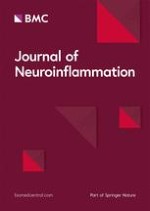 Humoral factors in ALS patients during disease progression
Zeitschrift:
Autoren:

Jared Ehrhart, Adam J. Smith, Nicole Kuzmin-Nichols, Theresa A. Zesiewicz, Israt Jahan, R. Douglas Shytle, Seol-Hee Kim, Cyndy D. Sanberg, Tuan H. Vu, Clifton L. Gooch, Paul R. Sanberg, Svitlana Garbuzova-Davis
Wichtige Hinweise
Jared Ehrhart and Adam J. Smith contributed equally to this work.
Competing interests
SGD is a consultant and PRS is a co-founder of Saneron CCEL Therapeutics, Inc.
Authors' contributions
Assay performance; JE—cytokines, AS—nitrites, SK—GSH assays. TZ and IJ evaluated disease status in ALS patients and obtained patient blood samples. NKN and CDS created and collected patient logs and calculated ALSFRS-R scores. JE performed statistical analyses. RDS supervised AJ and SK in assay performance. SGD is the senior author and managed all studies and manuscript preparation. JE and AS were also involved in manuscript preparation. TT, CG, and PRS were involved in study design and discussion of results. All authors contributed to final edits of the manuscript. All authors read and approved the final manuscript.
Abstract
Background
Amyotrophic lateral sclerosis (ALS) is a neurodegenerative disease affecting upper and lower motor neurons in the CNS and leading to paralysis and death. There are currently no effective treatments for ALS due to the complexity and heterogeneity of factors involved in motor neuron degeneration. A complex of interrelated effectors have been identified in ALS, yet systemic factors indicating and/or reflecting pathological disease developments are uncertain. The purpose of the study was to identify humoral effectors as potential biomarkers during disease progression.
Methods
Thirteen clinically definite ALS patients and seven non-neurological controls enrolled in the study. Peripheral blood samples were obtained from each ALS patient and control at two visits separated by 6 months. The Revised ALS Functional Rating Scale (ALSFRS-R) was used to evaluate overall ALS-patient functional status at each visit. Eleven humoral factors were analyzed in sera. Cytokine levels (GM-CSF, IL-1β, IL-2, IL-4, IL-5, IL-6, IL-8, IL-10, and TNF-α) were determined using the Bio-Rad Bio-Plex® Luminex 200 multiplex assay system. Nitrite, a breakdown product of NO, was quantified using a Griess Reagent System. Glutathione (GSH) concentrations were measured using a Glutathione Fluorometric Assay Kit.
Results
ALS patients had ALSFRS-R scores of 30.5 ± 1.9 on their first visit and 27.3 ± 2.7 on the second visit, indicating slight disease progression. Serum multiplex cytokine panels revealed statistically significant changes in IL-2, IL-5, IL-6, and IL-8 levels in ALS patients depending on disease status at each visit. Nitrite serum levels trended upwards in ALS patients while serum GSH concentrations were drastically decreased in sera from ALS patients versus controls at both visits.
Conclusions
Our results demonstrated a systemic pro-inflammatory state and impaired antioxidant system in ALS patients during disease progression. Increased levels of pro-inflammatory IL-6, IL-8, and nitrite and significantly decreased endogenous antioxidant GSH levels could identify these humoral constituents as systemic biomarkers for ALS. However, systemic changes in IL-2, IL-5, and IL-6 levels determined between visits in ALS patients might indicate adaptive immune system responses dependent on current disease stage. These novel findings, showing dynamic changes in humoral effectors during disease progression, could be important for development of an effective treatment for ALS.