12.05.2017 | Original Article | Ausgabe 6/2018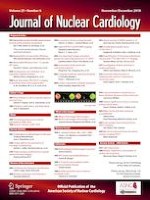 Hybrid PET/CT and PET/MRI imaging of vulnerable coronary plaque and myocardial scar tissue in acute myocardial infarction
Zeitschrift:
Autoren:

MSc, PhD Stephanie Marchesseau, MBBS Aruni Seneviratna, MSc A. Therese Sjöholm, DipNurs Daphne Liang Qin, MMagResonTech Jamie X. M. Ho, MBChB, PhD, FRCP, FACC, FESC Derek J. Hausenloy, PhD David W. Townsend, MBChB, MD, PhD, DSc, FRACP, FRCP, FRSNZ A. Mark Richards, DCR, MSc, PhD John J. Totman, MBBS, MHS, MMED, MRCP Mark Y. Y. Chan
Wichtige Hinweise
Electronic supplementary material
The online version of this article (doi:
10.​1007/​s12350-017-0918-8
) contains supplementary material, which is available to authorized users.
The authors of this article have provided a PowerPoint file, available for download at SpringerLink, which summarizes the contents of the paper and is free for re-use at meetings and presentations. Search for the article DOI on SpringerLink.com.
Funding
This work has been partially funded by the NMRC NUHS Centre Grant—Medical Image Analysis Core (NMRC/CG/013/2013).
Abstract
Background
Following an acute coronary syndrome, combined CT and PET with 18F-NaF can identify coronary atherosclerotic plaques that have ruptured or eroded. However, the processes behind 18F-NaF uptake in vulnerable plaques remain unclear.
Methods and Results
Ten patients with STEMI were scanned after
18
F-NaF injection, for 75 minutes in a Siemens PET/MR scanner using delayed enhancement (LGE). They were then scanned in a Siemens PET/CT scanner for 10 minutes. Tissue-to-background ratio (TBR) was compared between the culprit lesion in the IRA and remote non-culprit lesions in an effort to independently validate prior studies. Additionally, we performed a proof-of-principle study comparing TBR in scar tissue and remote myocardium using LGE images and PET/MR or PET/CT data. From the 33 coronary lesions detected on PET/CT, TBRs for culprit lesions were higher than for non-culprit lesions (TBR = 2.11 ± 0.45 vs 1.46 ± 0.48;
P
< 0.001). Interestingly, the TBR measured on the PET/CT was higher for infarcted myocardium than for remote myocardium (TBR = 0.81 ± 0.10 vs 0.71 ± 0.05;
P
= 0.003). These results were confirmed using the PET/MR data (TBR = 0.81 ± 0.10 for scar, TBR = 0.71 ± 0.06 for healthy myocardium,
P
= 0.03).
Conclusions
We confirmed the potential of 18F-NaF PET/CT imaging to detect vulnerable coronary lesions. Moreover, we demonstrated proof-of-principle that 18F-NaF concurrently detects myocardial scar tissue.