01.12.2017 | Research article | Ausgabe 1/2017 Open Access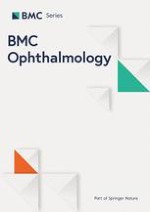 Hydrophilic intraocular lens opacification after posterior lamellar keratoplasty - a material analysis with special reference to optical quality assessment
Zeitschrift:
Autoren:

Bert C. Giers, Tamer Tandogan, Gerd U. Auffarth, Chul Y. Choi, Florian N. Auerbach, Saadettin Sel, Christian Mayer, Ramin Khoramnia
Abstract
Background
Laboratory analysis and optical quality assessment of explanted hydrophilic intraocular lenses (IOLs) with clinically significant opacification after posterior lamellar keratoplasty (DMEK and DSAEK).
Methods
Thirteen opacified IOLs after posterior lamellar keratoplasty, 8 after descemet stripping automated endothelial keratoplasty (DSAEK), 3 after descemet membrane endothelial keratoplasty (DMEK) and 2 after both DSAEK and DMEK were analysed in our laboratory. Analyses included optical bench assessment for optical quality, light microscopy, scanning electron microscopy (SEM) and energy dispersive X-Ray spectroscopy (EDS).
Results
In all IOLs the opacification was caused by a thin layer of calciumphosphate that had accumulated underneath the anterior optical surface of the IOLs in the area spared by the pupil/anterior capsulorhexis. The calcifications lead to a significant deterioration of the modulation transfer function across all spatial frequencies of the affected IOLs.
Conclusions
The instillation of exogenous material such as air or gas into the anterior chamber increases the risk for opacification of hydrophilic IOLs irrespective of the manufacturer or the exact composition of the hydrophilic lens material. It is recommended to avoid the use of hydrophilic acrylic IOLs in patients with endothelial dystrophy that will likely require procedures involving the intracameral instillation of air or gas, such as DMEK or DS(A)EK.