01.12.2010 | Review | Ausgabe 1/2010 Open Access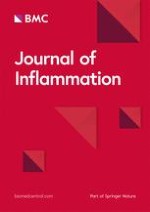 Hypercholesterolemia and microvascular dysfunction: interventional strategies
Zeitschrift:
Autoren:

Phoebe A Stapleton, Adam G Goodwill, Milinda E James, Robert W Brock, Jefferson C Frisbee
Wichtige Hinweise
Electronic supplementary material
The online version of this article (doi:
10.​1186/​1476-9255-7-54
) contains supplementary material, which is available to authorized users.
Competing interests
The authors declare that they have no competing interests.
Authors' contributions
PS conceived of the review, performed the literature search, compiled, designed, and drafted the manuscript. AG aided in the literature search and drafted the manuscript. MJ aided the literature search. RB conceived of the review, participated in the design, and execution. JF conceived of the review, participated in the design, and execution. All authors read and approved of the final manuscript.
Abstract
Hypercholesterolemia is defined as excessively high plasma cholesterol levels, and is a strong risk factor for many negative cardiovascular events. Total cholesterol levels above 200 mg/dl have repeatedly been correlated as an independent risk factor for development of peripheral vascular (PVD) and coronary artery disease (CAD), and considerable attention has been directed toward evaluating mechanisms by which hypercholesterolemia may impact vascular outcomes; these include both results of direct cholesterol lowering therapies and alternative interventions for improving vascular function. With specific relevance to the microcirculation, it has been clearly demonstrated that evolution of hypercholesterolemia is associated with endothelial cell dysfunction, a near-complete abrogation in vascular nitric oxide bioavailability, elevated oxidant stress, and the creation of a strongly pro-inflammatory condition; symptoms which can culminate in profound impairments/alterations to vascular reactivity. Effective interventional treatments can be challenging as certain genetic risk factors simply cannot be ignored. However, some hypercholesterolemia treatment options that have become widely used, including pharmaceutical therapies which can decrease circulating cholesterol by preventing either its formation in the liver or its absorption in the intestine, also have pleiotropic effects with can directly improve peripheral vascular outcomes. While physical activity is known to decrease PVD/CAD risk factors, including obesity, psychological stress, impaired glycemic control, and hypertension, this will also increase circulating levels of high density lipoprotein and improving both cardiac and vascular function. This review will provide an overview of the mechanistic consequences of the predominant pharmaceutical interventions and chronic exercise to treat hypercholesterolemia through their impacts on chronic sub-acute inflammation, oxidative stress, and microvascular structure/function relationships.