01.12.2014 | Research | Ausgabe 1/2014 Open Access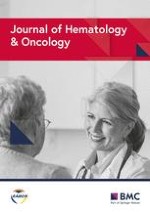 Hypermethylation of the alternative
AWT1

promoter in hematological malignancies is a highly specific marker for acute myeloid leukemias despite high expression levels
Zeitschrift:
Autoren:

Amy Guillaumet-Adkins, Julia Richter, Maria D Odero, Juan Sandoval, Xabi Agirre, Albert Catala, Manel Esteller, Felipe Prósper, María José Calasanz, Ismael Buño, Mi Kwon, Franck Court, Reiner Siebert, David Monk
Wichtige Hinweise
Electronic supplementary material
The online version of this article (doi:
10.​1186/​1756-8722-7-4
) contains supplementary material, which is available to authorized users.
Competing interests
The authors declare that they have no competing interests.
Authors' contributions
AMA carried out the molecular studies and FC performed the bioinformatic analyses. JR, MDO, JS, ZA, AC, ME FP, MJC, IB, MK, RS provided reagents and classified patients. AMA, RS and DM conceived of the study, and participated in its design and coordination and helped to draft the manuscript. All authors read and approved the final manuscript.
Abstract
Background
Wilms tumor 1 (WT1) is over-expressed in numerous cancers with respect to normal cells, and has either a tumor suppressor or oncogenic role depending on cellular context. This gene is associated with numerous alternatively spliced transcripts, which initiate from two different unique first exons within the
WT1
and the alternative (A)
WT1
promoter intervals. Within the hematological system,
WT1
expression is restricted to CD34+/CD38- cells and is undetectable after differentiation. Detectable expression of this gene is an excellent marker for minimal residual disease in acute myeloid leukemia (AML), but the underlying epigenetic alterations are unknown.
Methods
To determine the changes in the underlying epigenetic landscape responsible for this expression, we characterized expression, DNA methylation and histone modification profiles in 28 hematological cancer cell lines and confirmed the methylation signature in 356 cytogenetically well-characterized primary hematological malignancies.
Results
Despite high expression of
WT1
and
AWT1
transcripts in AML-derived cell lines, we observe robust hypermethylation of the
AWT1
promoter and an epigenetic switch from a permissive to repressive chromatin structure between normal cells and AML cell lines. Subsequent methylation analysis in our primary leukemia and lymphoma cohort revealed that the epigenetic signature identified in cell lines is specific to myeloid-lineage malignancies, irrespective of underlying mutational status or translocation. In addition to being a highly specific marker for AML diagnosis (positive predictive value 100%; sensitivity 86.1%; negative predictive value 89.4%), we show that
AWT1
hypermethylation also discriminates patients that relapse from those achieving complete remission after hematopoietic stem cell transplantation, with similar efficiency to
WT1
expression profiling.
Conclusions
We describe a methylation signature of the
AWT1
promoter CpG island that is a promising marker for classifying myeloid-derived leukemias. In addition
AWT1
hypermethylation is ideally suited to monitor the recurrence of disease during remission in patients undergoing allogeneic stem cell transfer.