01.12.2017 | Review | Ausgabe 1/2017 Open Access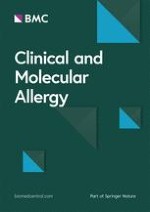 Hypersensitivity reactions due to black henna tattoos and their components: are the clinical pictures related to the immune pathomechanism?
Zeitschrift:
Autoren:

Gianfranco Calogiuri, Elisabetta Di Leo, Lavjay Butani, Stefano Pizzimenti, Cristoforo Incorvaia, Luigi Macchia, Eustachio Nettis
Background
Methods
We reviewed the available literature concerning the clinical presentations, the morphological pictures associated to allergy to black henna and the immunological mechanisms underlying the allergic reactions.
Results
Clinical manifestations related to a time-pattern onset
For this reason, beyond the 2 groups identified by Chung et al. there is a third group of patients, whose symptoms onset occurs few hours after a clear exposure to PPD. Their clinical history often includes a previous black henna tattoo, performed months or years ago, which behaves like a silent promoter of sensitization to PPD.
Morphological clinical pictures
As far as morphological clinical pictures are concerned, they appear to be more various and heterogeneous than time-pattern contact allergy manifestations (Table
1
). Thus, beyond the aforementioned urticaria and angioedema or contact anaphylaxis related to black henna tattoo painting and the classical eczematous contact dermatitis [
38
,
39
], have been described lichenoid eruptions [
11
,
40
,
41
], lymphomatoid reactions [
42
,
43
], vesicular-bullous lesions [
44
], which may be very painful and invalidating [
45
,
46
], and erythema multiforme like eruptions [
29
,
47
]. Sometimes, the localized eruption may become generalized and associated to systemic symptoms as fever and malaise [
50
,
51
]. Exceptionally, a Sweet syndrome [
52
], Wells syndrome [
53
,
54
], prurigo nodularis [
55
] and connubial contact dermatitis [
56
,
57
] have been also described.
Table 1
Reactions to black henna tattoo: main clinical manifestations and time to onset after the application
| Clinical manifestation | Time to onset | Ref |
| --- | --- | --- |
| Eczematous contact dermatitis | 1–2 days | |
| Lichenoid eruptions | 1–2 weeks | |
| Contact urticaria and angioneurotic oedema | Few hours–2 days | |
| Contact anaphylaxis | Few hours | |
| Lymphomatoid reactions | Few hours–few days | |
| Vesicular-bullous lesions | 1–4 days | |
| Erythema multiforme like eruptions | 2–14 days | |
| Sweet syndrome | 3 days | |
| Wells syndrome | 3 days | |
| Prurigo nodularis | 3 months | |
| Connubial contact dermatitis | Few days | |
It appears obvious that PPD is able to induce different clinical and morphological pattern as it happens in T-cell mediated drug hypersensitivity reactions [
58
], although PPD is a contact allergen only. Wolkenstein et al. suggested that detoxification enzymatic pathway defects are involved in toxic epidermal necrolysis and other severe cutaneous pathogenesis, allowing reactive metabolites accumulation for drugs as sulfonamides and anticonvulsant [
59
].
Because keratinocytes exert metabolic activity with two N-acetyltransferases (NAT) 1 and 2 (NAT2), isoenzymes for PPD in the skin [
60
], in a further in vitro investigation it has been observed that genotyping for NAT1 and NAT2 polymorphisms performed in 147 PPD-sensitized patients, the rapid acetylator NAT1*10 allele were under-represented in PPD-sensitive patients compared with 200 control subjects [
61
]. Such study suggests PPD slow acetylators NAT2 patients are more prone to develop an erythema multiforme-like reaction [
47
–
50
], i.e. a more serious contact allergy, as well as drug induced severe cutaneous eruptions are more frequently observed in slow acetylators [
59
]. However, in patients with severe cutaneous drug reactions, an expansion of drug specific cytotoxic T CD8+ cell subset and infiltration in cutaneous lesions has been observed in the immuno-histopathologic specimens [
62
]; T cells subsets and different cytokine patterns are involved in the variability of clinical pictures in drug induced hypersensitivity reactions [
58
].
By comparing the available data, PPD seems to be a hapten with a peculiar aspect, because it may behave like a systemic drug to elicit a hypersensitivity response. Actually, in PPD sensitized patients specific PPD T cell clones CD4+ CD8+ secreting Th2 cytokine pattern, as IL-4, IL-5, IL-6, IL-8, IL-10, and IL-13, have been identified and isolated in vitro [
63
,
64
]. This was reported also in mice, because PPD-HSA causes a transient activation of CD8+ cytotoxic cells only [
63
]. However, because vesicular bullous reactions have been reported in patients with contact hypersensitivity to PPD after henna tattoo application [
44
–
46
] and two other patterns of T cell activation by PPD have been evidenced in vitro [
63
], future researches should investigate the relationship between clinical morphological aspect of PPD contact dermatitis and T-cell subsets predominance.
Discussion and conclusions
However, further studies are needed to investigate the relationship between clinical and morphological aspects of PPD contact dermatitis and the T-cell subsets predominance.
These observations confirm that the pure henna is a weak sensitizer poorly responsible for allergic contact dermatitis, while PPD represents a strong sensitizing agent responsible for contact hypersensitivity. PPD can induce hypersensitivity reactions involving various pathogenetic mechanisms that are responsible for the time-pattern onset and for their morphological aspects.
Authors' contributions
GC had the idea of the manuscript and was a major contributor in writing the manuscript. EDL was the co-contributor in writing the manuscript. BL revised the manuscript. SP analyzed the pubmed resources. CI participated in coordination and helped to draft the manuscript. LM analyzed the PubMed resources. EN was the co-contributor in creating and drafting the manuscript. All authors read and approved the final manuscript.
Acknowledgements
Not applicable.
Competing interests
The authors declare that they have no competing interests.
Open Access
This article is distributed under the terms of the Creative Commons Attribution 4.0 International License (
http://​creativecommons.​org/​licenses/​by/​4.​0/​
), which permits unrestricted use, distribution, and reproduction in any medium, provided you give appropriate credit to the original author(s) and the source, provide a link to the Creative Commons license, and indicate if changes were made. The Creative Commons Public Domain Dedication waiver (
http://​creativecommons.​org/​publicdomain/​zero/​1.​0/​
) applies to the data made available in this article, unless otherwise stated.