01.03.2013 | Übersichtsarbeit | Ausgabe 2/2013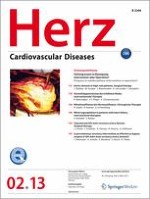 Hypertonie und Ernährung
Positionspapier der Österreichischen Gesellschaft für Ernährung (ÖGE)
Zeitschrift:
Autoren:

T.E. Dorner, D. Genser, G. Krejs, J. Slany, B. Watschinger, C. Ekmekcioglu, A. Rieder
Wichtige Hinweise
In Kooperation mit Prof. Watschinger und Prof. Slany von der Österreichischen Gesellschaft für Hypertensiologie.
Das Manuskript wurde von Univ.-Prof. Dr. Ibrahim Elmadfa, Präsident der Österreichischen Gesellschaft für Ernährung (ÖGE) und Präsident der IUNS (International Union of Nutritional Sciences), in Auftrag gegeben. Die Autoren bedanken sich bei ihm und bei Fr. Mag. Alexandra Hofer, Geschäftsführerin der ÖGE, für ihre Unterstützung.
Zusammenfassung
Hypertonie gehört zu den häufigsten Ursachen der Gesamtmortalität und ist zu einem hohen Anteil für Todesfälle durch Schlaganfälle, aber auch durch koronare Herzkrankheit verantwortlich. Die krankhafte Erhöhung des Blutdrucks auf Werte, die zu einer Schädigung des Herz-Kreislauf-Systems führen, bezeichnet man als (arterielle) Hypertonie. Blutdruckwerte ab 140/90 mmHg (systolisch/diastolisch) wurden als hypertensiv definiert. Neben genetischer Prädisposition, Alter und Geschlecht spielen das Körpergewicht und Lebensstilfaktoren wie Bewegung und Ernährung eine wichtige Rolle in der Entstehung der Hypertonie. Lebensstiloptimierung zählt zu den wichtigen Maßnahmen sowohl in der Prävention als auch in der Therapie der Hypertonie. In diesem Artikel werden die Ernährungsfaktoren diskutiert, die mit Hypertonie assoziiert sind. Hinsichtlich der Ernährung haben insbesondere eine Reduktion der Kochsalzzufuhr, eine kaliumreiche Kost, Gewichtsmanagement, die DASH (Dietary Approaches to Stop Hypertension)-Diät, ein Ernährungsmuster, das auf einer obst-, gemüse- und getreidereichen Ernährung mit Milch und Milchprodukten mit niedrigem Fettgehalt basiert, sowie ein, wenn überhaupt, nur moderater Alkoholkonsum einen günstigen Einfluss auf den Blutdruck. Basierend auf der wissenschaftlichen Literatur werden in diesem Artikel Ernährungsempfehlungen bei Hypertonie erstellt.