24.10.2017 | Clinical Article - Brain Tumors | Ausgabe 12/2017 Open Access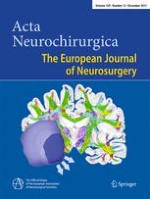 Hypofractionated high-energy proton-beam irradiation is an alternative treatment for WHO grade I meningiomas
Zeitschrift:
Autoren:

Pavlos Vlachogiannis, Olafur Gudjonsson, Anders Montelius, Erik Grusell, Ulf Isacsson, Kristina Nilsson, Erik Blomquist
Abstract
Background
Radiation treatment is commonly employed in the treatment of meningiomas. The aim of this study was to evaluate the effectiveness and safety of hypofractionated high-energy proton therapy as adjuvant or primary treatment for WHO grade I meningiomas.
Method
A total of 170 patients who received irradiation with protons for grade I meningiomas between 1994 and 2007 were included in the study. The majority of the tumours were located at the skull base (
n
= 155). Eighty-four patients were treated post subtotal resection, 42 at tumour relapse and 44 with upfront radiotherapy after diagnosis based on the typical radiological image. Irradiation was given in a hypofractionated fashion (3–8 fractions, usually 5 or 6 Gy) with a mean dose of 21.9 Gy (range, 14–46 Gy). All patients were planned for follow-up with clinical controls and magnetic resonance imaging scans at 6 months and 1, 2, 3, 5, 7 and 10 years after treatment. The median follow-up time was 84 months. Age, gender, tumour location, Simpson resection grade and target volume were assessed as possible prognostic factors for post-irradiation tumour progression and radiation related complications.
Results
The actuarial 5- and 10-year progression-free survival rates were 93% and 85% respectively. Overall mortality rate was 13.5%, while disease-specific mortality was 1.7% (3/170 patients). Older patients and patients with tumours located in the middle cranial fossa had a lower risk for tumour progression. Radiation-related complications were seen in 16 patients (9.4%), with pituitary insufficiency being the most common. Tumour location in the anterior cranial fossa was the only factor that significantly increased the risk of complications.
Conclusions
Hypofractionated proton-beam radiation therapy may be used particularly in the treatment of larger World Health Organisation grade I meningiomas not amenable to total surgical resection. Treatment is associated with high rates of long-term tumour growth control and acceptable risk for complications.