01.08.2012 | Preclinical Study | Ausgabe 3/2012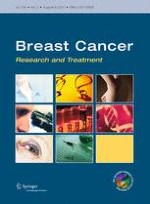 Hypomethylation of LINE-1 in primary tumor has poor prognosis in young breast cancer patients: a retrospective cohort study
Zeitschrift:
Autoren:

Anneke Q. van Hoesel, Cornelis J. H. van de Velde, Peter J. K. Kuppen, Gerrit Jan Liefers, Hein Putter, Yusuke Sato, David A. Elashoff, Roderick R. Turner, Jaime M. Shamonki, Esther M. de Kruijf, Johanna G. H. van Nes, Armando E. Giuliano, Dave S. B. Hoon
Abstract
Long interspersed element 1 (LINE-1), a non-coding genomic repeat sequence, methylation status can influence tumor progression. In this study, the clinical significance of LINE-1 methylation status was assessed in primary breast cancer in young versus old breast cancer patients. LINE-1 methylation index (MI) was assessed by absolute quantitative assessment of methylated alleles (AQAMA) PCR assay. Initially, LINE-1 MI was assessed in a preliminary study of 235 tissues representing different stages of ductal breast cancer development. Next, an independent cohort of 379 primary ductal breast cancer patients (median follow-up 18.9 years) was studied. LINE-1 hypomethylation was shown to occur in DCIS and invasive breast cancer. In primary breast cancer it was associated with pathological tumor stage (
p
= 0.026), lymph node metastasis (
p
= 0.022), and higher age at diagnosis (>55,
p
< 0.001). In multivariate analysis, LINE-1 hypomethylation was associated with decreased OS (HR 2.19, 95 % CI 1.17–4.09, log-rank
p
= 0.014), DFS (HR 2.05, 95 % CI 1.14–3.67, log-rank
p
= 0.016) and increased DR (HR 2.83, 95 % CI 1.53–5.21, log-rank
p
= 0.001) in younger (≤55 years), but not older patients (>55 years). LINE-1 analysis of primary breast cancer demonstrated cancer-related age-dependent hypomethylation. In patients ≤55 years, LINE-1 hypomethylation portends a high-risk of DR.