01.12.2018 | Case report | Ausgabe 1/2018 Open Access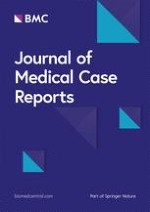 Hypothalamic hypopituitarism secondary to suprasellar metastases from small cell lung cancer: a case report and review of the literature
Zeitschrift:
Autoren:

Ryohei Ono, Ryoji Ito, Keiko Nakagawa, Shinichi Teshima, Izumi Kitagawa, Hideyasu Sugimoto
Abstract
Background
Metastasis to the pituitary gland is an infrequent clinical problem, and the symptoms caused by metastases have been reported in only 2.5–18.2% of the cases. However, metastasis to the suprasellar lesion has rarely been reported in the literature. To the best of our knowledge, only nine cases of hypothalamic hypopituitarism due to metastases of solid tumors have been reported in English-language journals.
Case presentation
A 67-year-old Japanese man presented to our hospital with generalized weakness, lethargy, and weight loss. Laboratory data showed hypoglycemia together with low thyroid-stimulating hormone and free thyroxine. We suspected hypopituitarism and performed imaging of the head, which revealed multiple tumors, one of which was in the suprasellar region. Computed tomography of the chest showed a tumor shadow, and a bronchoscopic biopsy pathologically showed small cell lung cancer. Hormone profiling demonstrated hypothalamic pan-hypopituitarism. We diagnosed hypothalamic hypopituitarism secondary to metastases from the primary lung cancer and initiated radiation, chemotherapy, and hormone replacement, but the patient died 10 months later.
Conclusions
We report a case of a 67-year-old man with hypothalamic hypopituitarism secondary to a suprasellar metastasis from a primary small cell lung cancer, and we review ten cases of hypothalamic hypopituitarism due to metastases, including our patient. Recognizing hypopituitarism can be challenging, especially in the elderly, whose symptoms such as lethargy and visual decline may be mistaken for the natural aging process. In patients with established metastatic conditions, the symptoms may be wrongly attributed to malignancy or to the side effects of therapy. When a patient is suspected of having hypopituitarism, a hormone load test can help to diagnose the type of hypopituitarism. It is important to evaluate the brain and the whole body to confirm whether metastasis and primary cancer exist. Because the mortality rate is very high, aggressive intervention for both diagnosis and therapy is required in cases of hypothalamic hypopituitarism secondary to tumor metastasis.