05.09.2020 | Ausgabe 4/2020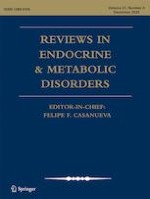 Hypothalamus-pituitary-adrenal Axis in Glucolipid metabolic disorders
Zeitschrift:
Autoren:

Yanduan Lin, Ziwei Zhang, Siyu Wang, Jinyan Cai, Jiao Guo
Wichtige Hinweise
Publisher's note
Springer Nature remains neutral with regard to jurisdictional claims in published maps and institutional affiliations.
Abstract
With the change of life style, glucolipid metabolic disorders (GLMD) has become one of the major chronic disorders causing public health and clinical problems worldwide. Previous studies on GLMD pay more attention to peripheral tissues. In fact, the central nervous system (CNS) plays an important role in controlling the overall metabolic balance. With the development of technology and the in-depth understanding of the CNS, the relationship between neuro-endocrine-immunoregulatory (NEI) network and metabolism had been gradually illustrated. As the hub of NEI network, hypothalamus-pituitary-adrenal (HPA) axis is important for maintaining the balance of internal environment in the body. The relationship between HPA axis and GLMD needs to be further studied. This review focuses on the role of HPA axis in GLMD and reviews the research progress on drugs for GLMD, with the hope to provide the direction for exploring new drugs to treat GLMD by taking the HPA axis as the target and improve the level of prevention and control of GLMD.