01.12.2019 | Research | Ausgabe 1/2019 Open Access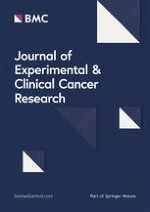 Hypoxic exosomes facilitate angiogenesis and metastasis in esophageal squamous cell carcinoma through altering the phenotype and transcriptome of endothelial cells
Zeitschrift:
Autoren:

Yu Mao, Yimin Wang, Lixin Dong, Yunjie Zhang, Yanqiu Zhang, Chao Wang, Qiang Zhang, Sen Yang, Liyan Cao, Xinyuan Zhang, Xin Li, Zhanzhao Fu
Wichtige Hinweise
Electronic supplementary material
Publisher's Note
Springer Nature remains neutral with regard to jurisdictional claims in published maps and institutional affiliations.
Abstract
Background
In cancer progression, hypoxia, or low oxygen tension, is a major regulator of tumor aggressiveness and metastasis. However, how cancer cells adapt to the hypoxia and communicate with other mesenchymal cells in microenvironment during tumor development remains to be elucidated. Here, we investigated the involvement of exosomes in modulating angiogenesis and enhancing metastasis in esophageal squamous cell carcinoma (ESCC).
Methods
Differential centrifugation, transmission electron microscopy and nanoparticle tracking analysis were used to isolate and characterize exosomes. Colony formation and transwell assay were performed to assess the proliferation, migration and invasion of human umbilical vein endothelial cells (HUVECs). The tube formation assay and matrigel plug assay were used to evaluate the vascular formation ability of HUVECs in vitro and in vivo respectively. An in vivo nude mice model was established to detect the regulatory role of exosomes in ESCC progression. Microarray analysis was performed to analyze the transcriptome profiles in HUVECs.
Results
Exosomes derived from ESCC cells cultured under hypoxia played a better role in promoting proliferation, migration, invasion and tube formation of HUVECs in vitro and in vivo than exosomes from ESCC cells cultured under normoxia. Moreover, hypoxic exosomes significantly enhanced the tumor growth and lung metastasis compared with normoxic exosomes in nude mice models. Interestingly, endothelial cells were programmed by hypoxic and normoxic exosomes from ESCC cells which altered the transcriptome profile of HUVECs.
Conclusions
Taken together, our data identified an angiogenic role of exosomes from ESCC cells which shed light on the further application of exosomes as valuable therapeutic target for ESCC.