19.03.2020 | Clinical Investigation | Ausgabe 6/2020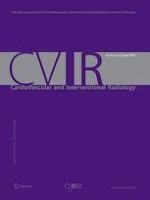 Ice Ball Cracks on CT During Cryoablation for Renal Tumors: A Retrospective Analysis
Zeitschrift:
Autoren:

Yusuke Ichijo, Hiroshi Miura, Tatsuya Hirota, Shunsuke Asai, Mitsuhiro Hisano, Fumiya Hongo, Osamu Ukimura, Tetsuya Katsumori, Kei Yamada
Wichtige Hinweise
Publisher's Note
Springer Nature remains neutral with regard to jurisdictional claims in published maps and institutional affiliations.
Abstract
Purpose
To evaluate the frequency of ice ball cracks on CT during cryoablation of renal tumors and assess the severity of hemorrhagic complications associated with this finding.
Materials and Methods
Between March 2014 and March 2019, 130 patients underwent CT-guided cryoablation using cryoprobes with a diameter of 1.5 mm for 138 renal tumors (mean diameter, 23.6 mm; standard deviation [SD], 7.5; range, 8.3–43). Two blinded board-certified radiologists retrospectively reviewed the presence of cracks on CT obtained during the procedure. The incidence of major hemorrhage and changes in hemoglobin levels after cryoablation were examined. Factors influencing the appearance of ice ball cracks were assessed with multivariate analyses.
Results
Cracks were observed in 25 of the138 procedures (18%). Inter-reader reliabilities with kappa statistics were 0.90 and 0.84 for first and second freeze sessions, respectively. There were no major hemorrhagic events requiring blood transfusion or arterial embolization. Mean (± SD) decreases in hemoglobin levels between pre- and postoperative day 1 were 1.15 ± 0.86 g/dl in the cracks group and 1.01 ± 0.80 g/dl in the no cracks group with no significant difference (
p
 = 0.14). Multivariate analyses identified a higher number of cryoprobes (odds ratio, 4.1; 95% confidence interval [CI] 1.7–11;
p
 = 0.001) and no hydrodissection (odds ratio 6.7; 95% CI 2.1–28;
p
 < 0.001) as factors associated with ice ball cracks.
Conclusion
Ice ball cracks were frequently observed on CT during cryoablation for renal tumors and were seemingly self-limiting events requiring no intervention.