06.02.2019 | Preclinical study | Ausgabe 1/2019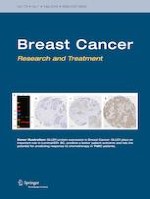 ID2 and GJB2 promote early-stage breast cancer progression by regulating cancer stemness
Zeitschrift:
Autoren:

Yin Liu, Puspa R. Pandey, Sambad Sharma, Fei Xing, Kerui Wu, Amar Chittiboyina, Shih-Ying Wu, Abhishek Tyagi, Kounosuke Watabe
Wichtige Hinweise
Electronic supplementary material
Abstract
Purpose
Ductal carcinoma in situ (DCIS) is a non-invasive form of breast cancer which could progress to or recur as invasive breast cancer. The underlying molecular mechanism of DCIS progression is yet poorly understood, and appropriate biomarkers to distinguish benign form of DCIS from potentially invasive tumor are urgently needed.
Methods
To identify the key regulators of DCIS progression, we performed gene-expression analysis of syngeneic breast cancer cell lines MCF10A, DCIS.com, and MCF10CA and cross-referenced the targets with patient cohort data.
Results
We identified ID2 as a critical gene for DCIS initiation and found that ID2 promoted DCIS formation by enhancing cancer stemness of pre-malignant cells. ID2 also plays a pivotal role in survival of the aggressive cancer cells. In addition, we identified INHBA and GJB2 as key regulators for the transition of benign DCIS to aggressive phenotype. These two genes regulate migration, colonization, and stemness of invasive cancer cells. Upregulation of ID2 and GJB2 predicts poor prognosis after breast-conserving surgery. Finally, we found a natural compound Helichrysetin as ID2 inhibitor which suppresses DCIS formation in vitro and in vivo.
Conclusion
Our results indicate that ID2 is a key driver of DCIS formation and therefore is considered to be a potential target for prevention of DCIS, while INHBA and GJB2 play vital roles in progression of DCIS to IDC and they may serve as potential prognosis markers.