01.12.2017 | Case report | Ausgabe 1/2017 Open Access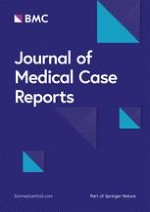 Identification of a novel mutation in
PEX10

in a patient with attenuated Zellweger spectrum disorder: a case report
Zeitschrift:
Autoren:

Maria Blomqvist, Karin Ahlberg, Julia Lindgren, Sacha Ferdinandusse, Jorge Asin-Cayuela
Abbreviations
MRI
Magnetic resonance imaging
NGS
Next generation sequencing
PBD
Peroxisomal biogenesis disorders
PTS1
peroxisome targeting sequence 1
VLCFA
Very long chain fatty acids
ZSD
Zellweger spectrum disorders
Background
Peroxisomes are subcellular organelles present in all eukaryotic cells except for mature erythrocytes. A range of different metabolic functions are specific for this organelle, that is, beta-oxidation of very long chain fatty acids (VLCFA) and pristanic acid, alpha-oxidation of phytanic acid, biosynthesis of etherphospholipids, bile acids and docosahexaenoic acid, and glyoxylate detoxification [
1
]. The importance of peroxisomes in metabolism is evident by the existence of a large group of genetic diseases associated with impaired peroxisome biogenesis and function [
2
]. Peroxisomal disorders are divided into two groups: (1) peroxisome biogenesis disorders (PBDs), and (2) single peroxisomal enzyme defects. PBDs include the Zellweger spectrum disorders (ZSDs) and rhizomelic chondrodysplasia punctata type 1 and 5. ZSDs have autosomal recessive inheritance and are caused by mutations in any of 13 different
PEX
genes [
3
]. These
PEX
genes encode for proteins called peroxins that are involved in peroxisome biogenesis and/or protein import [
4
]. Severe defects in one of these
PEX
genes result in the absence of functional peroxisomes which is seen in classical Zellweger syndrome, while milder phenotypes are often associated with partial loss of peroxisomal function.
Patients with ZSD show neurodevelopmental disease that ranges from pronounced neuronal migration deficiencies with hypotonia, seizures, dysmorphic features, liver disease, retinal degeneration, sensorineural deafness, and polycystic kidneys to a more attenuated phenotype [
2
,
3
]. Patients with the classical presentation show elevated plasma levels of VLCFAs, pipecolic acid and C
27
bile acid intermediates together with diminished erythrocyte etherphospholipids (plasmalogens). Phytanic and pristanic acid levels are normal at birth, but can be elevated depending on dietary intake. Cultured fibroblasts from these patients show increased levels of VLCFAs, deficient plasmalogen biosynthesis, and C26:0, phytanic and pristanic acid oxidation. Cytochemical evaluation shows mislocation of the peroxisomal matrix protein catalase to the cytosol. Patients with a milder clinical presentation often show less pronounced abnormalities of peroxisomal metabolites in body fluids and fibroblasts [
5
,
6
]. Among ZSD patients
PEX1
is the most affected gene, followed by
PEX 6
and
PEX12
[
7
]. This report describes a new missense mutation in
PEX10
in a patient with mild clinical phenotype and highlights the importance of performing biochemical and genetic peroxisomal screening in patients with clinical presentations milder than those observed in ZSDs.
Case presentation
Discussion
Conclusions
We describe a patient affected by a ZSD with a mild clinical and biochemical phenotype caused by a novel homozygous mutation in the
PEX10
gene (c.530 T > G (p.Leu177Arg) (NM_153818.1)). This case report highlights the importance of performing biochemical and genetic peroxisomal screening in patients with clinical presentations milder than those usually observed in ZSDs.
Acknowledgements
We wish to thank the patient and her parents for consenting to the publication of this case report and Dr Liz Ivarsson for providing the MRI.
Funding
There was no source of funding for this case report.
Availability of data and materials
All laboratory data and MRI relevant to this case report can be found in the "Case presentation" section of this report.
Ethics approval and consent to participate
All procedures followed were in accordance with the ethical standards of the responsible committee on human experimentation (institutional and national) and with Helsinki Declaration of 1975, as revised in 2000.
Consent for publication
Written informed consent was obtained from the patient's legal guardians for publication of this case report and any accompanying images. A copy of the written consent is available for review by the Editor-in-Chief of this journal.
Competing interests
The authors declare that they have no competing interests.
Publisher's Note
Springer Nature remains neutral with regard to jurisdictional claims in published maps and institutional affiliations.
Open Access
This article is distributed under the terms of the Creative Commons Attribution 4.0 International License (
http://​creativecommons.​org/​licenses/​by/​4.​0/​
), which permits unrestricted use, distribution, and reproduction in any medium, provided you give appropriate credit to the original author(s) and the source, provide a link to the Creative Commons license, and indicate if changes were made. The Creative Commons Public Domain Dedication waiver (
http://​creativecommons.​org/​publicdomain/​zero/​1.​0/​
) applies to the data made available in this article, unless otherwise stated.