01.12.2018 | Research article | Ausgabe 1/2018 Open Access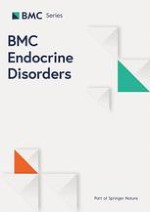 Identification of an obesity index for predicting metabolic syndrome by gender: the rural Chinese cohort study
Zeitschrift:
Autoren:

Leilei Liu, Yu Liu, Xizhuo Sun, Zhaoxia Yin, Honghui Li, Kunpeng Deng, Xu Chen, Cheng Cheng, Xinping Luo, Ming Zhang, Linlin Li, Lu Zhang, Bingyuan Wang, Yongcheng Ren, Yang Zhao, Dechen Liu, Junmei Zhou, Chengyi Han, Xuejiao Liu, Dongdong Zhang, Feiyan Liu, Chongjian Wang, Dongsheng Hu
Abstract
Background
To compare the accuracy of different obesity indexes, including waist circumference (WC), weight-to-height ratio (WHtR), body mass index (BMI), and lipid accumulation product (LAP), in predicting metabolic syndrome (MetS) and to estimate the optimal cutoffs of these indexes in a rural Chinese adult population.
Methods
This prospective cohort involved 8468 participants who were followed up for 6 years. MetS was defined by the International Diabetes Federation, American Heart Association, and National Heart, Lung, and Blood Institute criteria. The power of the 4 indexes for predicting MetS was estimated by receiver operating characteristic (ROC) curve analysis and optimal cutoffs were determined by the maximum of Youden's index.
Results
As compared with WHtR, BMI, and LAP, WC had the largest area under the ROC curve (AUC) for predicting MetS after adjusting for age, smoking, drinking, physical activity, and education level. The AUCs (95% CIs) for WC, WHtR, BMI, and LAP for men and women were 0.862 (0.851–0.873) and 0.806 (0.794–0.817), 0.832 (0.820–0.843) and 0.789 (0.777–0.801), 0.824 (0.812–0.835) and 0.790 (0.778–0.802), and 0.798 (0.785–0.810) and 0.771 (0.759–0.784), respectively. The optimal cutoffs of WC for men and women were 83.30 and 76.80 cm. Those of WHtR, BMI, and LAP were approximately 0.51 and 0.50, 23.90 and 23.00 kg/m2, and 19.23 and 20.48 cm.mmol/L, respectively.
Conclusions
WC as a preferred index over WHtR, BMI, and LAP for predicting MetS in rural Chinese adults of both genders; the optimal cutoffs for men and women were 83.30 and 76.80 cm.