11.02.2019 | Original Article | Ausgabe 4/2019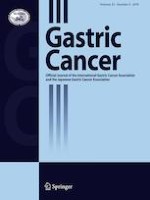 Identification of early genetic changes in well-differentiated intramucosal gastric carcinoma by target deep sequencing
Zeitschrift:
Autoren:

Takashi Yoshida, Tatsuya Yamaguchi, Shinya Maekawa, Shinichi Takano, Toru Kuno, Keisuke Tanaka, Fumihiko Iwamoto, Yuya Tsukui, Shoji Kobayashi, Yukiko Asakawa, Hiroko Shindo, Mitsuharu Fukasawa, Yasuhiro Nakayama, Taisuke Inoue, Tomoyoshi Uetake, Masahiko Ohtaka, Tadashi Sato, Kunio Mochizuki, Nobuyuki Enomoto
Wichtige Hinweise
Electronic supplementary material
Publisher's Note
Springer Nature remains neutral with regard to jurisdictional claims in published maps and institutional affiliations.
Abstract
Background and aims
The recent advancement of next-generation sequencing (NGS) has enabled the identification of cancer-related somatic aberrations in advanced gastric cancer. However, these remain unclear in early gastric cancers, especially in intramucosal gastric cancers.
Patients and methods
Thirty-one well-differentiated (tub1) intramucosal gastric cancers obtained by endoscopic submucosal dissection (ESD) from 29 patients were analyzed. After precise collection of tumors and non-tumors from formalin-fixed paraffin-embedded tissues using laser-captured microdissection (LCM), target sequencing analysis of 50 cancer-related genes was performed using an Ion-Proton sequencer.
Results
The most frequent hotspot mutation was found in
TP53
(17 lesions, 54.8%) followed by the
Wnt
-signaling pathway genes,
APC
and
CTNNB1
(6 lesions, 19.4%). The mutations in
TP53
and the
Wnt
-signaling genes were mutually exclusive (
p
 = 0.004). There was a tendency that
H. pylori
infection (
p
 = 0.082) and macroscopic protrusion (
p
 = 0.095) was associated with the presence of these mutations. Only 10 lesions (59%) among 17 lesions with proven
TP53
mutations were positive for p53 immunostaining demonstrating the superiority of the mutational analysis. In addition, focal gene amplification of
ERBB2
(16%) was found frequently in these early stage lesions.
Conclusions
Using LCM and NGS, mutations in
TP53
and the
Wnt-
signaling pathway were frequently found and were mutually exclusive in the earliest stage of gastric carcinogenesis.